Learn Software Development One Skill Set at a Time
Step Up to a Coding Career
Coding bootcamps put you on a fast track to a programming career, by providing immersive training on a compressed schedule.
But not everyone can reserve three months for non-stop training. That's why UNC offers Coding Bootcamp Badges, powered by The Software Guild. We will help you master .NET/C# or Java one skill set at a time, helping you speed your way to project-ready skills.
Powered by...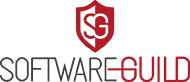 There is no need to be intimidated if you don't have computer science or coding experience. Many students do not have a background in the field. You'll learn from master instructors with an average of more than ten years of industry experience, and you'll work on practical real-world problems to learn the qualifications and technologies that employers want most.
Coding Bootcamp Badges
What are Coding Bootcamp Badges? They offer an affordable, flexible way to learn software development.
Learn what you want: Begin with the Level 1 badge in .NET/C# or Java to learn programming basics. After earning your first badge, you'll have a new credential for your resume and LinkedIn profile. But don't stop there. Earn all four badges to develop full-stack skills that can launch your coding career.
Learn when you want: You can obtain all four Coding Bootcamp Badges in as few as 10 months, or you can take a brief break between badges. This flexible schedule helps you keep your job while you learn to code.
Learn where you want: Training takes place online, giving you the freedom to learn wherever you choose. Collaborate with instructors and classmates from home, school or anywhere you have internet access.
Bootcamp
BASICS
Languages
Number of Badges in Each Bootcamp
4
Level of Study
Non-Credit
Location
Online
Start Dates
Bootcamps begin the 1st Monday of each month.