Offering Dual Enrollment at Your School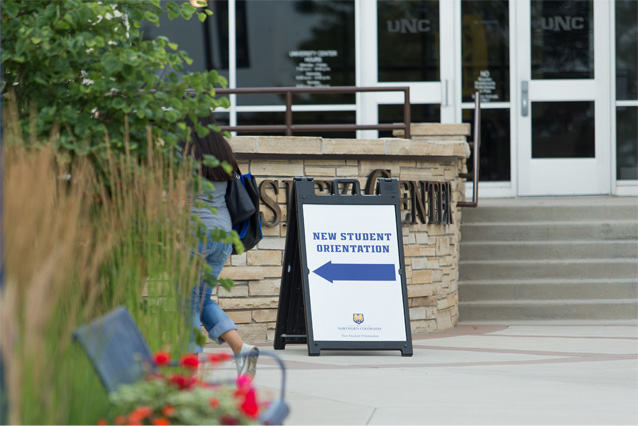 The UNC Dual Enrollment program allows students to take college courses at their high school. This program provides students with the dual benefit of college-level credit along with credit toward their high school graduation.
Students who take several dual enrollment classes during their junior and senior years of high school may even amass enough credits to be considered a sophomore – or nearly so – when they set foot on their college campus. One of our UNC Dual Enrollment high school counselors said it best:
"The junior and senior years need to be more meaningful and more rigorous. Dual credits get students on a path to college preparedness and shows them that they can do it. I feel like we're doing a good job of that here."
- WHS counselor
College-Level Rigor Delivered at Your School
The Dual Enrollment program through University of Northern Colorado has given my high school students the opportunity to take a rigorous, college level course, with the convenience of staying on our high school campus. The registration process is simple and they are getting ahead on their college education.
- Allison Werning, Platte Valley High School Counselor
Building Confidence and Opportunities
Among the many Eaton High School dual enrollment success stories, I am particularly proud of one of our first-generation female students. She has taken six credits each semester and is now a confident college student because of the exposure and opportunities provided by UNC's Dual Enrollment Program.
- Marcy Sanger, Eaton High School Counselor
Support Your Students' Highest Aspirations
Do your students have specific college aspirations and want to move towards them quickly?
Do they want to save money by possibly eliminating one or two semesters of college costs?
Do they have concerns about choosing their college major and want to explore topics at the college level?
Do they want to get general education courses checked off their list?
Dual Enrollment helps students achieve their goals while also saving substantial time and money. We are able to offer these courses to students at substantially lower cost than on-campus courses.
Bring UNC Dual Enrollment to your Classrooms
Give your students the jump start they're seeking. With course costs substantially lower than the campus-based courses at most any college or university (including community colleges), dual enrollment lowers their eventual degree cost as well.
Instructors & Administrators Interested in Bringing Dual Enrollment Courses to Your School, Please Contact...
Professional Development:
Kim Metcalf
kimberly.metcalf@unco.edu