Extended Campus Includes the Instructional Design and Development (IDD) Team
Take advantage of the amazing support and services from our Instructional Design and Development (IDD) team. In our shop, you'll find critical resources to help you design, develop, and deliver your online courses.
IDD's Support and Services
IDD assists all instructors at UNC with Canvas and other educational technology support. In addition, IDD works closely with faculty who are designing and developing fully online and hybrid courses for Extended Campus delivery. IDD provides support and resources through all phases of new course design, development, and delivery—as well as ongoing support for existing online courses. IDD bases all of its work on Quality Matters standards. Working with IDD, you will have access to the following:
One-on-one instructional design consultation
Online course design and development
Technology training and support customized to the use(s) of technology in your courses
Customized training for program participants (available upon request)
ID On Demand – a growing library of educational technology reference guides, video guides, and tutorials
Workshop opportunities – generally available at the beginning and end of each term, and during the term to address significant educational technology updates
Background information on online teaching and learning pedagogy
Quality Matters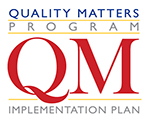 One key to our success in online learning is the work we do with faculty to design courses that meet well-established best practices for online course design and development. To support these efforts, Extended Campus is committed to implementing Quality Matters standards for the design of all online courses.
Because Quality Matters standards promote learner engagement and an active focus on student success, we systematically build and evaluate online courses based on these rigorous, research-based standards. UNC is a Quality Matters subscriber, and these standards—as well as other best practices—form the foundation of all of our course design and development activity.