A Mostly Online Master's Degree for Art Education
The Art and Design Master of Arts degree is designed for current art educators who wish to build upon their credentials while developing as artists, teachers and leaders in the field of art education. The program combines work in methodology, curriculum development, aesthetics, studio processes and current issues in the field. Art educators can reconnect with their studio practices and develop new teaching strategies and skills.
You'll learn from expert faculty and practical field application. Synthesize your own personal talents and interests into this in-depth and individualized master's degree. The program takes 2 years to complete and begins each Fall term.
This program is delivered online during the fall and spring semesters to fit around your schedule and includes a 4 week summer on-campus (Greeley, CO) residencies—allowing you to get back in the studio. In these summer workshops you can actively practice your own art, extend your artistic skill set and learn techniques you can share in your own classrooms.
Career Options for Graduates
Graduates of the Art & Design Master of Arts degree are often already involved in art education and many of them return to teaching art in the schools. Other successful graduates are working throughout the nation and abroad as school arts administrators; museum educators; art curators; and directors of community art centers, state arts agencies and non-profit arts organizations. Others are now in the entertainment, publishing and emerging technologies fields.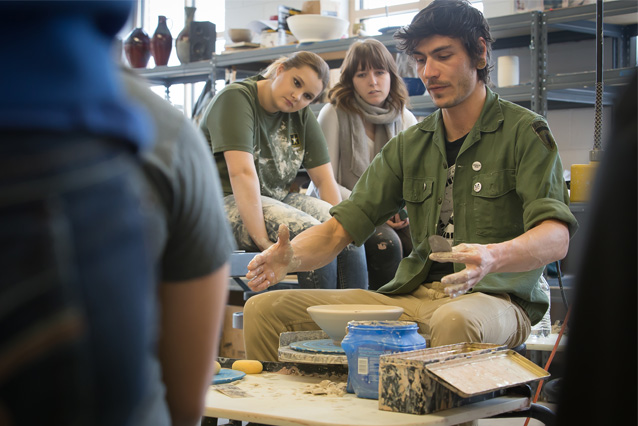 SNAPSHOT
Credits Required:
30
Time to Completion:
2 years
Tuition:
$520/credit hour
Delivery Option & Start Term:
Online program + Summer Greeley workshops: starts each Fall term
Get Started/Apply
Program Coordinator
Connie Stewart
connie.stewart@unco.edu
970-351-2426
The Art & Design Master of Arts is a 30 credit hour program consisting of online coursework during the Fall and Spring terms plus Summer residency sessions featuring electives in studio and art history taken on-campus during your summer visits:
Your Summer on-campus residency can be as short as two weeks depending on your course choices.
The maximum Summer residency will be four weeks if you prefer a summer content course that is not offered in the same 2-week session as your research course.
These summer sessions allow you to actively practice your own art, potentially learn new artistic skill sets, and later apply these experiences in your classrooms.
---
Coursework
The following courses are required for the low-residency program. To see a typical list of courses per term, visit an example Current Students page for this program.
Required Courses (14 Credit Hours)
Electives (16-18 Credit Hours)
Your remaining credits will be upper level electives in studio and art history taken on-campus during your summer visits.
For more details and to design your own course of study, please contact the Academic Program Coordinator.
---
Action Research Project
Students will design, conduct and complete Action Research Projects in lieu of a comprehensive exam required by the graduate school. The Art Education faculty will advise, review and provide feedback for the action research projects and reports.
---
For full details, see the official program listing in the UNC Graduate Catalog.