A Distance-Delivered Brewing Laboratory Science Certificate
The UNC Brewing Laboratory Science Graduate Certificate Program is delivered online with brewery experiences coordinated either at UNC or at a brewery near you. Our flexible program is perfect for working professionals who want to become experts in brewing science and quality control.
This certificate involves coursework and hands-on experiences in...
Beer production
Beer quality
Brewery planning
Implementing QA/QC protocols (including good brewing practices, SOPs, and HACCP plans).
We tailor this program to your unique situation – allowing courses to be completed through a variety of options including online coursework, face-to-face lectures and labs, and internships at breweries convenient to your location. This certificate can be completed entirely at a distance, without coming to the UNC campus.
Ferment Your Brewing Science Career
This graduate certificate is designed for those interested in changing to a career in brewing or expanding their brewing knowledge. Upon completion of this program, you will have the knowledge to...
Attain positions in brewing management or brewing quality management
Implement QA/QC procedures at a brewery
Start your own brewing laboratory
Ensure brewing quality control for your own brewing operations
The need for brewing laboratory science skills—in Colorado and nationwide—is still growing. There are 9,247 craft breweries in the U.S. as of 2021, with 433 in Colorado (fourth most in the nation). Consistent beer quality is a key factor in the success of new and growing breweries. Position yourself for a critical and growing role in the brewing industry.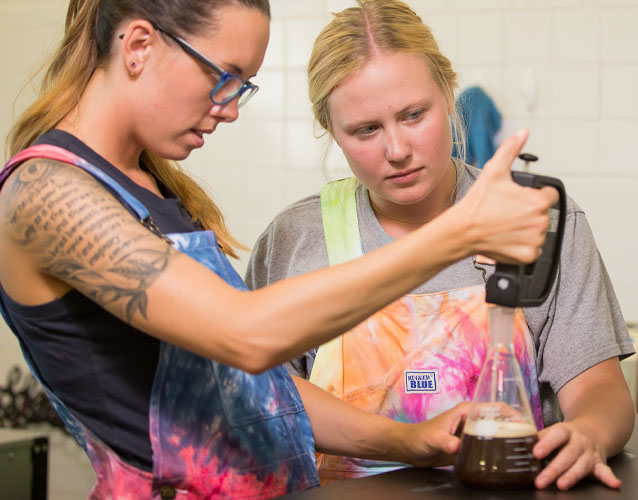 SNAPSHOT
Credits Required:
9
Time to Completion:
1 year for most students
Tuition:
$9,000 total
Delivery Option & Start Term:
Online + brewery experiences in your area: start any term (Fall 2022 or after)
Get Started/Apply
Program Coordinator
Michael Mosher
michael.mosher@unco.edu
970-351-3257
Flexible, Distance-Offered Program with Practical Brewing Experiences
This certificate features flexible course options that allow you to tailor your education to your unique schedule and your career goals in the brewing industry.
You will take one or more online courses.
For all practical brewing experience courses, UNC faculty will help you arrange opportunities at a brewery in your area. This requires participation by brewing professionals at the chosen brewery to oversee your placement.
Experiential learning experiences can also be completed at UNC if you prefer.
Most students will take one course per term and complete the certificate in one year. You can complete the program in less than a year if you take more than one course during a particular term.
The Program Coordinator can help you determine the best course options throughout your student experience.
---
Certificate Courses (9 Credit Hours)
Laboratory Science (3 Credit Hours Required)
BREW 570 Practical Brewing Science (3) – held at the UNC brewing facility
BREW 622 Directed Studies (1-3) – individualized investigation arranged with a brewery near you
BREW 695 Special Topics in Brewing Laboratory Science (1-3) – completed either online or arranged with a brewery near you
Experiential Learning (3 Credit Hours Required)
BREW 579 Advanced Brewing Laboratory Science (3) – held at UNC brewing facility
BREW 692 Internship (1-9) – arranged with a brewery near you
Brewery and Laboratory Design (3 Credit Hours Required)
BREW 580 Brewery Operations (3) – online course
---
For full program requirement details, see the official program listing in the UNC Graduate Catalog.