A Mostly Online Geography Education Certificate for Working Instructors
PLEASE NOTE: this program is not currently accepting applications.
The Geography Education Graduate Certificate Program is designed for secondary geography teachers and community college instructors. You can complete this program without interrupting your teaching career.
Three online courses are offered during the fall and spring, and the Summer course is online plus in the field in western Colorado. See the Course of Study tab for more details about when you can start the program.
Field Course Adventure
The field portion of the Summer course takes place in western Colorado in early August. You will make your way to Grand Junction, CO, where you will spend two days studying water resource issues and urban geography. Then you will embark on a 3-day river trip on the Colorado River. The trip will end at the head of the Westwater Canyon in Utah.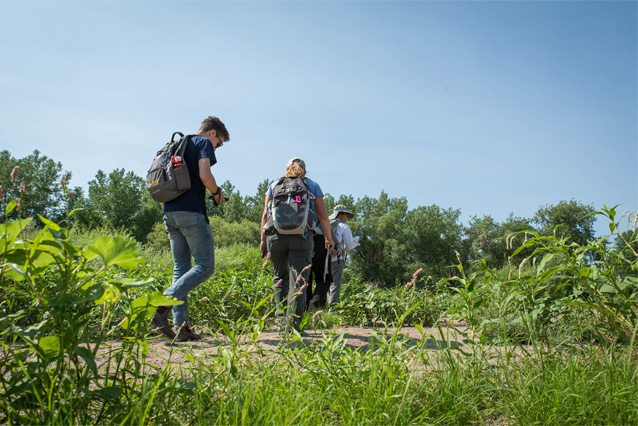 SNAPSHOT
Credits Required:
12
Time to Completion:
2 terms + Summer trip
Tuition:
$583/credit hour
Delivery Option & Start Term:
Online + a Summer field course/trip: start any term
Get Started/Apply
Admissions Coach
Anna Taylor
anna.taylor@unco.edu
970-351-4039
Course Delivery Method & Timing
This certificate features fully online courses in the Fall and Spring terms to fit your education around your teaching schedule.
The Summer course is online from May to July, plus an early-August field experience in Grand Junction and on the Colorado river.
You can begin this program any term, but most students choose to start with the Spring term online courses.
You may also choose to take any two of these courses without being required to complete the certificate.
---
Certificate Courses (12 Total Credit Hours)
To see the upcoming courses, visit this program's Current Students page.
---
For full details, see the official program listing in the UNC Graduate Catalog.
What Our Students Say...
I was able to work full time as well as attend the online classes. The courses pertained exactly to what I was teaching at the time, so I was able to apply what I was learning in my own classroom. The credits I earned in the program will also allow me to apply for teaching jobs in a community college. Finally, the summer field experience was very enticing. It gave us a chance to actually 'do' geography.
Jenny Pettit, Certificate Program Graduate;
Social Studies Coordinator, Longmont