Share this page
Adult Gerontology Acute Care Nurse Practitioner Master's Degree
PLEASE NOTE: this program is not currently accepting applications.
Through the Nursing Master of Science in Nursing (MSN) – Adult Gerontology Acute Care Nurse Practitioner (AGACNP) Emphasis program, you are prepared for advanced clinical practice as an Adult Gerontology Acute Care Nurse Practitioner (AGACNP). The AGACNP emphasis teaches health promotion, assessment, diagnosis, monitoring, treatment and coordination of care of acutely and critically ill adolescents, adults, and older adults. The program addresses the needs of both urban and rural communities, and emphasizes the importance of transitions of care and aging in place.
You may have the option of continuing to work while in the program due to the online delivery format the majority of the year. Students attend two mandatory summer intensive sessions in Greeley, Colorado during the program. Students and faculty work together to secure clinical placements for the required clinical hours.
An Advanced Practice (APN / APRN) Specialty with Growing Demand
Through this convenient Master of Science degree, you'll be prepared to engage in advanced clinical practice. Upon graduation, you will be eligible to apply for national certification credentials:
Graduates can also apply for state licensure as an advanced practice nurse (APN/APRN) in adult-gerontology acute care. This program also offers a seamless transition to our post-master's DNP program for those students who wish to continue on for the terminal degree.
Nurse Practitioner Job & Salary Growth
The median salary for a Registered Nurse in 2017 was $70,000.
However, the median salary for a Nurse Practitioner (a role supported by this program) was $103,880 and NP employment is projected to grow 36% from 2016-2026.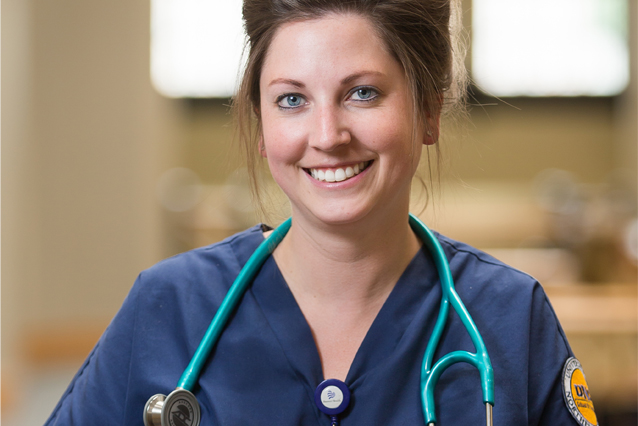 SNAPSHOT
Credits Required:
50
Time to Completion:
8 terms (less than 3 years)
Tuition:
$659/credit hour
Delivery Option & Start Term:
Online + Summer Greeley Experiences: starts each Fall term
Get Started/Apply
Please Refer Questions to...
Mellany Archer
mellany.archer@unco.edu
970-351-2234
Required Coursework (50 Credit Hours)
To see a typical list of courses by term, visit an example Current Students page for this program.
See the Planned Course Sequence (listing which courses will be delivered each term of your program).
Required Major Credits (12 Hours)
NP Coursework (16 Hours)
---
Clinical Hours (540 Hours)
A minimum of 600 clinical/simulation/lab/practicum hours are completed while enrolled in the program courses as follows:
540 minimum total clinical hours in NURS 682, 683, 686, and 693.
60 minimum total simulation/lab hours between NURS 613 and NURS 684.
These courses involve advanced practice skills labs, evidence-based practice simulations and clinical decision-making competencies, as well as clinical hours in advanced practice skill acquisition.
A clinical placement coordinator is dedicated to the Nurse Practitioner programs to assist students in finding clinical placements and qualified preceptors, which include licensed physicians, nurse practitioners, nurse midwives, and physician assistants.
Choose Between Comprehensive Exam and Thesis Options
Most students fulfill the MSN requirements via successful completion of a comprehensive exam.
Completion of a master's thesis via NURS 699 Master's Thesis (6) is also an option.
---
For full details, see the official program listing in the UNC Graduate Catalog.
Get Started/Apply
Additional Resources
Other AGACNP Programs