An Intervention Specialist Master's Degree with an ABAI®-Verified Course Sequence
PLEASE NOTE: this program is not currently accepting applications.
The Special Education Master of Arts – Intervention Specialist: Applied Behavior Analysis Concentration program prepares educators with knowledge and skills in the area of Applied Behavior Analysis (ABA) and leadership, for preparation to sit for the Board Certified Behavior Analyst® (BCBA®) exam.
This Special Education Program Blends in School Psychology Coursework
Learning outcomes include...
Concepts and foundations of applied behavior analysis
Measurement and experimental design
Identifying functions or problem behavior
Designing, implementing and evaluating interventions
Behavior change systems
Ethics
Management and supervision
Application of applied behavior analysis through the lifespan, including individuals with cultural and linguistic diversity, autism, traumatic brain injury and extremely challenging behaviors.
Includes an ABAI-Verified Course Sequence
This graduate program prepares educators to become leaders in schools and communities in the area of applied behavior analysis. Because the ABA coursework is an Association for Behavior Analysis International® (ABAI) verified course sequence, those who complete this concentration will fulfill the coursework and graduate degree requirements to take the examination for certification as Board Certified Behavior Analysts (BCBA).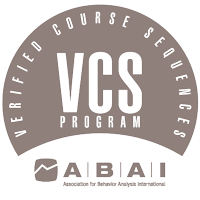 SNAPSHOT
Credits Required:
30
Time to Completion:
2 years
Tuition:
$583/credit hour
Delivery Option & Start Term:
Online program: starts each Fall term
Get Started/Apply
Admissions Coach
Anna Taylor
anna.taylor@unco.edu
970-351-4039
This online program has been designed to fit around your schedule, with an accelerated delivery that lets you focus on one course at a time.
Each term you will take two courses back-to-back, with 8-week sessions in the Fall and Spring and 6-week sessions in the Summer.
An optional orientation will be offered on-campus in Greeley, Colorado.
---
Required Coursework (30 Credit Hours)
To see the upcoming courses, visit this program's Current Students page.
Core Intervention Specialist Courses (9 Credit Hours)
Applied Behavioral Analysis Concentration Coursework (21 Credit Hours)
The Association for Behavior Analysis International has verified the following courses toward the coursework requirements for eligibility to take the Board Certified Behavior Analyst or Board Certified Assistant Behavior Analyst® examination. Applicants will need to meet additional requirements (see below) before they can be deemed eligible to take the examination.
The ABAI-verified content hours by category are listed after each course.
---
Additional Requirements by the BACB® For Your BCBA Credential
The Behavior Analyst Certification Board® (BACB) is an organization that credentials behavior analysts who have...
Completed an ABAI-verified course sequence such as this one;

Accrued sufficient field experience hours [To qualify at the BCBA level, the BACB requires supervisees to complete 1,500 hours of Supervised Independent Fieldwork in behavior analysis - UNC can provide some support for supervision hours for master's students to contribute to this requirement] and;

Demonstrated proficiency in the field via the BCBA examination. UNC will provide simulated exams and other student exam preparation tools for all students. Note: pass-rate data are not published for sequences with fewer than six 1st-time candidates in a single year or for sequences within their 1st four years of operation.
More information about BCBA certification requirements.
---
For full details, see the official program listing in the UNC Graduate Catalog.