We're Here to Help You Serve Students Off-Campus & Online
UNC Extended Campus has partnered with academic departments and individual instructors for decades to help them deliver quality educational outcomes off-campus and online.
Whether you are already teaching within an Extended Campus offering, or you are interested in joining your colleagues to reach out to new learners, the resources here will assist you in your endeavor.
Heading To See Potential Students?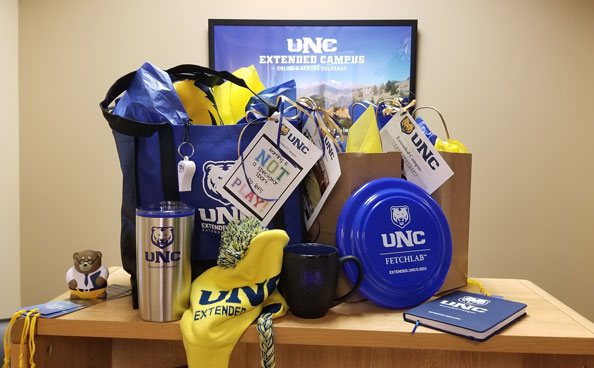 Extended Campus has great giveaway items that can help you engage potential students to learn more about your program. Whether you are presenting at a conference or organizational meeting, hosting a booth, or just stopping in to discuss needs with a large employer, we can help you make an impression. People love free stuff – and we have the coolest items! Contact susan.jewellklema@unco.edu or kathleen.white@unco.edu for help.
Who are UNC Extended Campus Students?
Our centers in Loveland and Denver, plus our online programs, allow us to extend your expertise to students who can't make it to Greeley. Students in Extended Campus offerings include...
Career Advancers – Employed professionals seeking credentials to enhance their value to their current and future employers. They are very concerned about balancing school with their work and family responsibilities. They want convenient access with minimal frills but prompt service.
Career Changers – Students seeking either a first degree or a program that allows them to switch to a new career path. They are concerned about balancing work, family and student responsibilities, but they are still likely to accelerate their credits/enrollment in order to make a quick transition to their new future. Many choose UNC because our programs are offered in fields that are socially meaningful and in high demand.
Lifelong Learners – professionals in fields that require continued education (courses, workshops or certificates) to keep their certification. However, those who choose UNC are also personally inspired to add current expertise to their knowledge and skills, so they seek out more rigorous and formal education options.
Current UNC On-Campus Students – Extended Campus individual courses and workshops are available to on-campus students (as well as lifelong learners). These offerings are also listed on the UNC master schedule of classes, and contribute to the variety of UNC options that help each student towards graduation. Tuition rates and other enrollment details may differ for these offerings, and those details are indicated in each course listing.