Become an Elementary Teacher in One Year and Earn Your Master's Degree / License
The Education Master of Arts in Teaching – Elementary Education with Licensure Emphasis program allows bachelor's degree holders to change careers by becoming licensed/endorsed elementary teachers. This accelerated program is offered in Colorado Springs, Denver, Greeley and Loveland.
The mission of this Master of Arts in Teaching plus teacher licensure program is to prepare graduate-level teacher candidates who are able to perform proficiently in elementary classrooms situated in an increasingly complex, diverse, and technologically advanced society. This program emphasizes both depth and breadth of teaching knowledge, theory, research, practice and skills.
Attend an Information Meeting!
A program representative will share information about the program and answer any questions you have.
Recurring Online Meeting:
1st Monday of each month, 2:00 PM Mountain Time
Location: Online – View monthly dates and register
Local Information Meetings:
Location: UNC Colorado Springs Center
Date: Tuesday, Nov. 19, 6:30 p.m. – Please RSVP: michelle.holmes@unco.edu
Location: UNC Denver Center at Lowry
Tuesday, October 22 (6:30 p.m.) – Please RSVP: michelle.holmes@unco.edu
Location: McKee Hall Room 282, UNC Campus, Greeley
Date: Wednesday, Nov. 20, 6 p.m. – Please RSVP: jon.shaw@unco.edu
Location: UNC Loveland Center at Centerra
Dates (all 6 p.m.): Wednesday, Oct. 30; Wednesday, Dec. 18 – Please RSVP: jon.shaw@unco.edu
A High-Quality Program with Student Teaching Experiences
Our faculty developed the Extended Campus delivery of this master's degree as a fast-completion, high-quality route to teacher licensure. You will have face-to-face courses, practicums and student teaching experiences for the first year, leading to your teaching license eligibility, and the remaining two courses for the master's degree are completed online. See the Course of Study tab below for details.
UNC School of Teacher Education programs are accredited by the Colorado Department of Education (CDE).
Inspire the Next Generation
With a graduate-level Education degree and licensure from UNC, you'll be a highly valued teacher candidate—UNC is the premier teacher preparation university in Colorado. You'll make a difference in the lives of children, and establish a career in a field that is always in demand.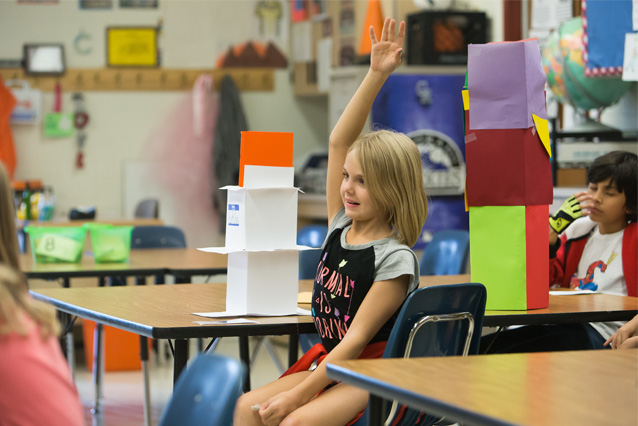 SNAPSHOT
Credits Required:
46
Time to Completion:
Teacher Licensure in 1 year, MAT in 15 months
Tuition:
$555/credit hour
Delivery Options & Start Term:
Four locations – start each Summer term.
Colorado Springs (Hybrid)
Denver
Greeley
Loveland
Get Started/Apply
Program & Enrollment Manager
The coursework below covers graduate coursework with your peers, and teaching experiences in area schools, including...
Practicums: this field experience requires 160 hours (11 hours a week for 15 weeks) in an elementary classroom. You will be assigned to a school in the fall semester of the program. This experience includes some teaching responsibilities.
Student Teaching: a full time teaching responsibility that takes place in the spring semester of the program. You will be required to spend 16 full weeks in an elementary classroom. You may apply to teach in any location you choose: close to home, abroad, or anywhere in between. We do our best to accommodate requests for placement, but there are no guarantees of availability at a requested area/school.
---
Required Courses (46 Credit Hours)
For full details, see the official program listing in the UNC Graduate Catalog.
What Our Students Say...
The quick timeline and the convenience of where it was offered were important to me. Once I researched UNC's great teacher education history, it was an easy choice.
– Christian Kozlowski, program graduate