The Animal Audiology Graduate Certificate Addresses Animal Hearing Loss Assessment & Management
PLEASE NOTE: this program is not currently accepting applications.
The Animal Audiology Graduate Certificate program is designed for graduate students enrolled in a Doctor of Audiology program and for currently practicing audiologists.
This certificate provides specialized training in the assessment and management of hearing loss in animals. Students will also learn about the physiology of hearing and sound production systems of animals.
All students will complete practicum hours working with animals and their owners/breeders at a local veterinary clinic or other off-campus location.
Focused on BAER Testing Skills
This certificate program emphasizes the use of the Brainstem Auditory Evoked Response (BAER) test for screening and diagnosis of hearing loss in canines and equines. These testing skills are analogous to those required to test the auditory function of human infants and other animal species. This certificate will increase your career opportunities and professional scope of practice.
This Certificate is Aligned with FETCHLAB UNC
The Facility for Education and Testing of Canine Hearing & Laboratory for Animal Bioacoustics (FETCHLAB™) is a community of clinicians, researchers, and students focused on evaluation of animal hearing to develop a greater understanding of animal communication capabilities. FETCHLAB UNC is based in the Communication Sciences and Disorders program at UNC and operates in partnership with the University of Cincinnati and the University of Akron.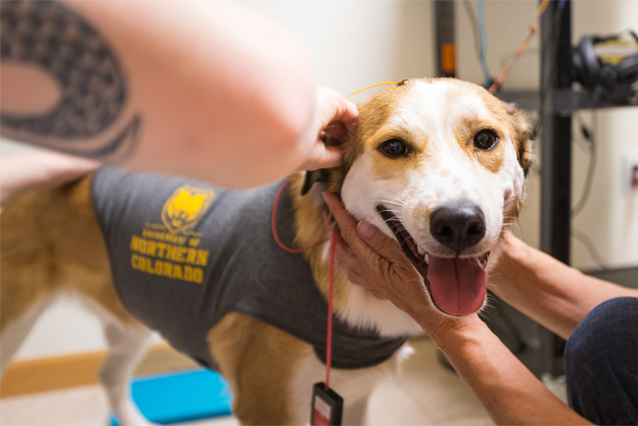 SNAPSHOT
Credits Required:
12
Time to Completion:
4-5 terms (16-20 months)
Tuition:
$662/credit hour
Delivery Option & Start Term:
Online + Greeley Visits: start Fall or Spring term
Get Started/Apply
Program Coordinator
Katie Bright, PhD
katie.bright@unco.edu
970-351-1589
Course Delivery Method & Timing
You will complete 12 credit hours total via four courses. Six of the credit hours will be in practicum courses.
Students will spend time observing animal care, management, training or evaluation. These hours can be arranged with professionals in your local area.
A portion of the clinical practicum hours will be completed with FETCHLAB™ faculty at Greeley-area veterinary clinics and facilities. These hours may be obtained in three-day compressed sessions, during which you will perform BAER testing under the supervision of a faculty member.
Coursework (12 Credit Hours)
For full program requirement details, see the official program listing in the UNC Graduate Catalog.