An Online Communication Studies Bachelor's Degree Completion Program
The online delivery of the Communication Studies Bachelor of Arts degree is a liberal arts program tied to the fundamental process of communication that drives our personal, social and professional lives. In this convenient degree completion program, you will learn the elements of message exchange across a variety of interactions and contexts.
Communication skills are consistently ranked as one of the top skills sought by employers in every field and profession. You will gain the skills to improve both your own communication and the communication outcomes of groups and organizations.
You'll Develop Applicable Skills in...
Communication theory
Public speaking and media
Communication research and inquiry
Leadership, persuasion and argumentation
Interpersonal, family and intercultural communication
Small group and organizational communication
A variety of elective courses are available. See the Courses of Study tab below.
Students are encouraged to complete internships for up to six hours of credit, which will help you apply communication theory to practical applications in your current job or use internships to pursue new opportunities.
The Benefit of a Bachelor's Degree
Why finish your degree? Besides the knowledge and skills you'll gain, you will also open the door to better employment opportunities and earnings. Based on final 2022 earnings data, the U.S. Bureau of Labor Statistics found that – compared to those who have only completed some college credit – those with a bachelor's degree...
Earned 53% more money each week ($1,432 compared to $935).
Had a lower unemployment rate (2.2% compared to 3.5%).
Visit the full Bureau of Labor Statistics article to view the full interactive charts for earnings and unemployment data by education level.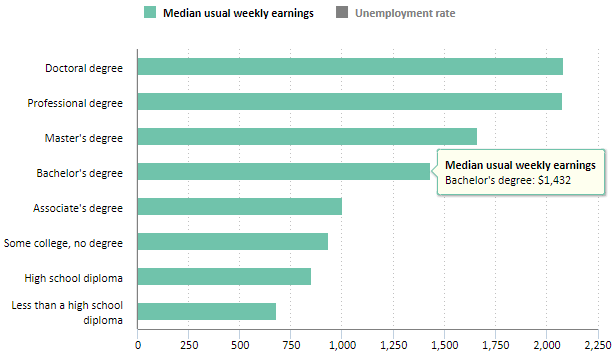 Career Options
Because communication skills are vital in almost any career, our Communication Studies majors and minors pursue a wide range of professional paths upon graduation. These are just a few of the possibilities:
Community Relations Practitioner
Motivational Speaker/Trainer
Communication Consultant
Sales and Customer Service Professional
Event Planner
Lobbyist
Human Resources Professional
A Liberal Arts Program Designed for Adult Learners
This online bachelor's degree completion program is designed for busy adults of any age who need to fit their college completion into busy lives, no matter where they live.
Choose Your Courseload: a robust selection of Communication Studies and minor option courses each term means you can enroll full-time (12 or more credits) or part-time based on your goals and situation.
Quality Brought to You Online: This Communication Studies Bachelor of Arts degree is the same as our on-campus program.
Transferable Skills: A broad liberal arts degree is highly valued by employers because it prepares you with communication and research skills that can be applied to any industry, providing you with more career options.
SNAPSHOT
Credits Required:
36 in Communication Studies
18 in chosen Minor
120 total (including transfer credit) for graduation
Time to Completion:
About 2 years, varies by student
Tuition:
$427/credit hour
Delivery Option & Start Term:
Online program: start any term
Get Started/Apply
Admissions Coach
Jordan Wilson
jordan.wilson@unco.edu
970-351-2896
Fully Online Degree Completion
The Communication Studies online degree completion program is designed to take two years for those with approximately 60 transferable credit hours. Using a mix of your transfer credit and UNC coursework, you will be required to complete minimum requirements for:
The Communication Studies major;
Your chosen minor (see below); and
A UNC Bachelor of Arts degree.
Online Course Tutorial
If you do not have recent experience taking classes online, you will have the chance to complete our online course tutorial. This tutorial will help you learn our Canvas course platform, and prepare you to succeed in your online courses!
Courses Are Available Every Term
Fall and Spring Semesters
You will have many 16-week courses available to choose from each term.
Summer Sessions
Multiple courses are offered in the summer term in the two 6-weeks sessions. If you take two 3-credit hour courses each session you will earn 12 credits in the summer term.
You can also take internship credits (COMM 492) each Summer.
Interim Session
Communication Studies online courses are also offered during UNC's Interim Session, which runs Dec-January between the Fall and Spring semesters. These are quick, intensive courses. Whether you choose to take interim courses may depend on whether you are taking the third 6-week course in Fall and/or the first 6-week course in Spring.
---
Coursework Requirements
Communication Studies Major (36 Credit Hours)
For an example of upcoming courses, visit the Current Students page for this program.
For full Communication Studies major coursework details, see the official program listing in the UNC Undergraduate Catalog. Please review both the Program Overview and Degree Requirements tabs.
Required Minor (18 Credit Hours)
There are many options for completing the minor requirement:
Courses from another UNC Extended Campus online program, including...
Courses transferred in from your previous coursework (perhaps from a previous major).
Some students may have the minor requirement waived if they have completed an appropriate selection of previous coursework. Examples include...

27 or more credit hours of coursework in a particular topic (even if that topic does not appear in the UNC minors list).
Two separate undergraduate certificates (that are identified on college transcripts).
Additional Credits Required for UNC Graduation
120 total credit hours are required for graduation from this UNC program. For full program requirement details, see the official program listing in the UNC Undergraduate Catalog.
Many of these credits may come from the courses you transfer as you apply. See the Eligibility & Transfer Credit tab for details about transferring your previous college credit.
Liberal Arts Curriculum (LAC) Coursework
UNC's Liberal Arts Curriculum provides students with a grounding in the liberal arts that is infused with critical and creative inquiry, and which also satisfies the six general education areas required for undergraduate degree programs at all public higher education institutions in the state of Colorado.
Many of these courses will potentially be fulfilled from your transferred credit.
View the current LAC requirements and policies. Course requirements by category (with links to list of eligible courses) are available at the bottom of the page.
Waiver of Liberal Arts Curriculum Requirements
Individuals with an Associate of Arts, Associate of Science, or a Bachelor's degree (regardless of date of completion) from a regionally accredited institution will have their Liberal Arts Curriculum requirements waived. See the Undergraduate Catalog for more information about LAC waiver and transfer evaluation policies.
Elective Credits
The remainder of your 120 total credit hours will be comprised of elective credits you take at UNC or elsewhere.
Taking LAC or Elective Courses Online
Some options if you need this additional coursework:
The UNC Course Search – use the "Go to schedule of classes" button (many LAC course offerings are during Summer sessions; UNC does not currently have online LAC courses in the following subjects: Math, and Science with lab).
You can also search for online courses at Colorado Community Colleges Online or peruse options at any community college, particularly one near you (tuition is often lower for local residents).