Share this page
A Criminal Justice Master's Degree Designed to Fit Your Schedule
The Criminology and Criminal Justice Master of Arts degree program is designed for working professionals in the fields of law enforcement, corrections, probation/parole, victim advocacy, and the judiciary environment, but is also a great fit for students who want to continue their studies directly after their undergraduate degree while they begin their criminal justice careers. This program is offered at our Loveland Center at Centerra, with some course requirements completed online.
This master's program will provide you with...
Practical application and knowledge of criminal justice and criminological theories.
Critical-thinking and problem-solving skills necessary for effective leadership and policy-making.
Opportunities to design original research and complete projects with real-world applications for criminal justice agencies and non-profit organizations.
Most students choose to focus on applied research skills that allow them to assist their agencies immediately, though some choose to pursue research that advances the overall body of knowledge in criminology and criminal justice. Our experienced faculty will mentor you as you choose your individualized path of study and research.
Career Options for Graduates
Employment advancement: Many criminal justice agencies require a graduate degree for advancement. This master's degree will provide you with the professional, practical training in leadership, policy and best practices, which will allow you to move up in the field and better serve your community.
Doctoral study: This program also prepares you for doctoral study in Criminology & Criminal Justice and related fields. Many of our master's program graduates have been admitted to the top doctoral programs in the field, including SUNY-Albany, Rutgers University, Penn State University and Indiana University of Pennsylvania.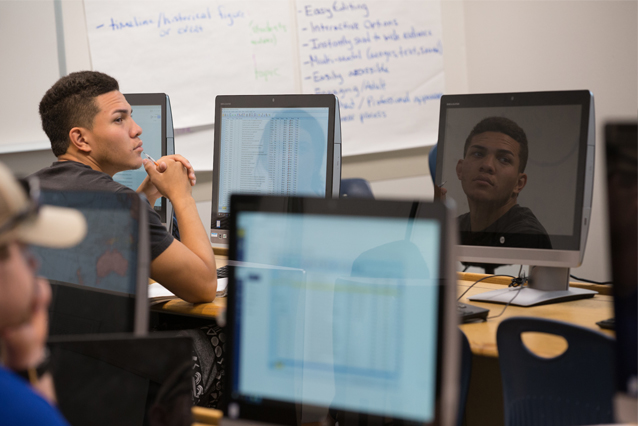 SNAPSHOT
Credits Required:
30
Time to Completion:
Less than 2 years
Tuition:
$618/credit hour
Delivery Option & Start Term:
Loveland + Online: starts each Fall term
Get Started/Apply
Program Coordinator
Kyle Ward, Ph.D.
kyle.ward@unco.edu
970-351-1072
This program can be completed in less than two years (6-9 credits per semester, including electives) and consists of 30 credits.
We will assist all students in pursuing internship opportunities for elective or project credits.
---
Coursework (30 Credit Hours)
To see the upcoming courses, visit this program's Current Students page.
Online Course Tutorial
If you do not have recent experience taking classes online, you will have the chance to complete our online course tutorial. This tutorial will help you learn our Canvas course platform, and prepare you to succeed in your online courses!
Core Coursework (21 Hours)
Offered as 16-week courses during the Fall and Spring semesters with hybrid delivery (some classroom time at our Loveland Center plus some work done online). Each course will meet once per week on a weekday evening. The number of evenings per week that you are in class each term will depend on the number of courses for which you enroll.
Elective Coursework (3-9 Hours)
You will take between 3 and 9 credit hours of electives based on the option that bests suits your career needs. Elective courses are 8-week online courses that can be offered in Fall, Spring or Summer. Elective course options will include the following:
Non-CRJ electives can be considered based on availability and prior approval from the graduate coordinator.
---
Program Options to Fit Your Career Goals (9 Credit Hours)
The following options all involve at least one elective course from the list above.
Thesis Option
A research-based option for those interested in further academic pursuits in the field. Students must have at least a 3.5 GPA in their graduate program in order to be approved for this option.
Complete a graduate thesis via six credit hours of thesis coursework (CRJ 699 Thesis).
Take three credit hours of 500-level or above CRJ-prefix elective coursework, or graduate coordinator-approved courses from other departments.
Comprehensive Examination Option
Complete nine credit hours of elective coursework at the 500-level or above or coordinator-approved courses from other departments. At least 3 credit hours must be CRJ-prefix credits.
You will take a written comprehensive examination in the semester in which you graduate and must be registered for UNC credit that semester.
---
For full details, see the official program listing in the UNC Graduate Catalog.
What Our Students Say...
Had it not been for the UNC master's degree, I would not be in the position I am in today. The skills I acquired played a key role in my promotion and continue to help me in my current job assignment.
As a result of the knowledge, research, and contacts from the program, I am a stronger leader and manager at my current police organization.
– Program Graduate Adam Turk,
Investigations Lieutenant, Greeley Police Dept.

I soon realized if I wanted to advance in the criminal justice system, I needed to further educate myself. My experience with the master's program was a very good one. All of the professors made themselves available for any questions that arose.
I put my degree to use daily. In fact, we just started a new intake unit, and we now receive the new people coming from court after sentencing.
– Program Graduate Saara Alakoski,
Probation Officer, 18th Judicial District (CO)

The Master of Arts program allowed me to gain invaluable experience. The curriculum prepared me to advance my career in the criminal justice field working as a Victim Services Coordinator and running the Juvenile Diversion program out of Eagle County, Colorado.
The professors tailor the classes to be relevant to working professionals as well as expand the student's academic prowess and understanding. The format, classwork, professors and overall program are top notch, allowing professionals to advance their careers in any area of criminal justice that they choose.
– Program Graduate Kamille McKinney,
Victim Services / Juvenile Diversion Coordinator, 5th Judicial District (CO)