A Dance Education Master's Degree
There are two degree options for educators who want to build their credentials and knowledge in the field of Dance Education. Choose the one that fits your teaching and career goals:
Dance Education Master of Arts – you will want to choose this program if you a) already have a K-12 teaching license; or b) teach in the private sector or post-secondary settings.
Dance Education Master of Arts – Licensure: Dance (Grades K-12) – you will want to choose this program if you would like to teach dance in the K-12 setting and do not already have your teaching license.
Both programs provide preparation for those who would like to pursue the Colorado Dance Grades K-12 added endorsement. If you will teach outside of Colorado, please check the endorsement or certification requirements in your state.
In this program, you will be able to build on your teaching strategies, develop theoretical knowledge as it relates to teaching and learning, and develop your dance/movement skills.
A Mostly-Online Program with Applied Summer Workshops
This master's program is designed with online delivery in the academic Fall and Spring, plus two short face-to-face Summer workshops, to fit into the schedules of current and aspiring dance educators. The summer workshops will include courses on choreography and learning dance forms.
Career Options for Graduates
UNC-trained educators will assist you in learning the latest and most effective instructional methods for choreography, dance performance production, skills and techniques and injury prevention. This will enable you to become a better dance instructor whether it is in the high school gym or your dance studio.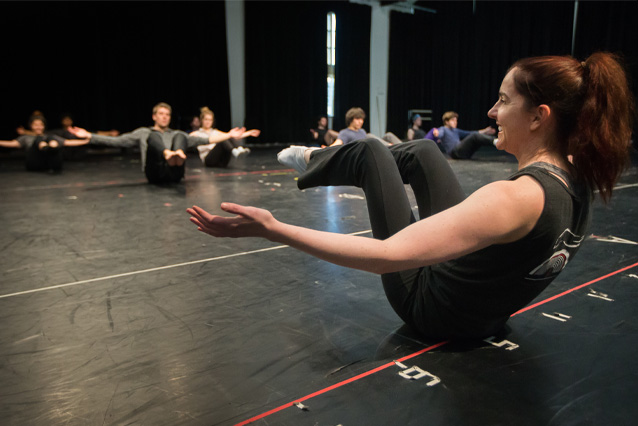 SNAPSHOT
Credits Required:
MA-Only: 33
MA with Teaching License: 57
Time to Completion:
MA-Only: 2 years + Thesis
MA with Teaching License: 2.5 years + Thesis/Student Teaching
Tuition:
$555/credit hour
Delivery Option:
Online program + Summer Greeley workshops
Start Terms:
MA-Only: each Fall
MA with Teaching License: each Summer
Get Started/Apply
Request Information
Request MA with Licensure Info
Program Coordinator
Christy O'Connell-Black
christy.oconnellblack@unco.edu
970-351-4133
The term that you start the program will depend on whether you are pursuing the teacher licensure option.
Master's-only students: You will start in Fall term and finish coursework in two years, plus one additional semester for thesis work.
Master's with licensure students: You will start in Summer term taking teacher preparation coursework. You will be joined by additional Dance Education students online in the Fall, and you will finish in 2.5 years plus a semester for thesis work and student teaching.
All Students:
You will take one Dance Education course each Fall and Spring term online.
You will visit our campus in Greeley, Colorado, each summer for a 2-week face-to-face institute with additional online coursework.
The on-campus Summer workshops (in July) will involve choreography, learning dance forms, movement skills/technique, pedagogy, interdisciplinary teaching through dance, creative dance, injury prevention, and dance production.
---
Coursework
To see the upcoming courses, visit this program's Current Students page.
Teacher Preparation Coursework (24 Credit Hours; Only for Licensure Students)
Thesis (6 Credit Hours)
A written thesis is required of all students. There are six credits of thesis advisement, taken via two courses.
---
For full details, see the official program listings in the UNC Graduate Catalog: