An Online Educational Technology Master's Degree
These online Educational Technology graduate programs provide you with rigorous but practical experience in educational technology innovation and pedagogical practices. Defining a new learning environment requires a set of technologies and social practices where meaning is delivered and consumed in new formats. Choose the right program to fit your career goals:
Educational Technology Master of Arts – 30 credit hours with elective options
Educational Technology - Innovative Pedagogy Graduate Certificate Program – 12 credit hours with elective options focused on innovative pedagogy; can be taken separately, or added by master's students as a en route certificate. [Note: the first start term for this program is Fall 2022.]
Our faculty encourage collaborative research and other scholarly projects, and coursework offers opportunities to publish research and present in scholarly venues.
Drive Innovation For the Future of Education
The goal of the program is to develop education professionals and classroom teachers that have foundational theoretical knowledge of technology-infused pedagogy for transformative teaching and learning. Graduates work in a variety of learning contexts (K-12, higher education, online environments, military training, business/organizational, and international settings) as scholars, educators, professional developers, program developers and consultants.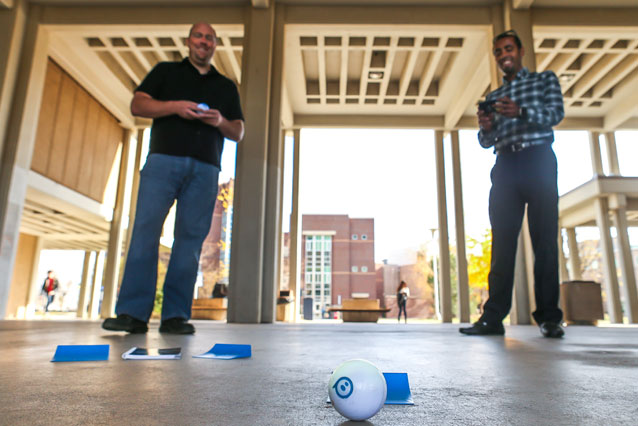 SNAPSHOT
Credits Required:
Master's degree = 30
Certificate = 12
Time to Completion:
Master's: 2 years or less
Certificate: varies based on course selection
Tuition:
$583/credit hour
Delivery Option & Start Term:
Online program: Start any term [Note: the first start term for the certificate is Fall 2022.]
Get Started/Apply
Request Information
Program Coordinator
Heng-Yu Ku, Ph.D.
hengyu.ku@unco.edu
970-351-2935
The online Educational Technology program is designed for working educators and professionals.
Courses are scheduled so that you can take one course at a time, but still complete two courses per term.
Fall and Spring term courses are eight weeks each, and Summer term courses are six weeks each.
---
Master's Degree (30 Credit Hours)
If you are interested in the certificate option, please see the grey box below.
To see the upcoming courses, visit this program's Current Students page.
Required Core (15 Credit Hours)
ET 501 Introduction to Applications of Educational Technology in PK-12 Education (3)
ET 523 Innovative Pedagogy and Assessment (3) **
ET 525 Learners and Curriculum in the Digital Age (3) *
ET 527 Social Justice in the Digital Age (3) *
ET 529 Instructional Design (3)
Research Core (6 Hours)
SRM 600 Introduction to Graduate Research (3)
ET 675 Innovating Education Culture: Research and Practice (3)
Meet Faculty and Fellow Students
Though this is a fully online program, educational technology conferences are a great place to meet your instructors and fellow students. Contact the Program Coordinator for details.
Electives (9 Credit Hours)
Tailor your remaining content coursework to fit your career goals. The variety of available courses allows you to concentrate toward a preferred specialty, or develop a broad base across innovation, pedagogical integration and instructional design.
ET 630 Trends and Issues in Instructional Design and Technology (3)
ET 631 Distance Education (3)
ET 635 Instructional Materials Development for Online Learning (3)
ET 640 Applications of Multiliteracies (3) *
ET 641 Designing, Playing, and Learning (3) *
ET 643 Innovative Instructional Formats (3) *
ET 645 Children's Engineering and STEM (3) *
---
Comprehensive Exam
Upon completion of all coursework, students must pass a written comprehensive exam.
---
Educational Technology - Innovative Pedagogy Graduate Certificate
The certificate is 12 credit hours, available via courses provided for the master's degree. In the master's degree course list above...
** = required certificate course
* = elective certificate course options (complete three courses)
---
For full program requirement details, see the official program listings in the UNC Graduate Catalog: