Nursing as a Second Bachelor's Degree
October 15 Is FREE Application Day!
Available for all Colorado and California residents.
UNC is waiving the application fee for undergraduate applications that are submitted on October 15 (12:01 a.m. to 11:59 p.m Mountain Time). You can start your application before October 15, but you must submit it on that day to be granted the waiver. Directions:
Bear App (most Extended Campus applicants use this app): no special steps; just submit on October 15.
Common App: use the following answers during your application...

Do you intend to use one of these school-specific fee waivers? Answer: Yes
Please provide your University of Northern Colorado fee waiver code here. Answer: freeappday
This program is specific to students who already have a bachelor's degree but who need a Bachelor of Science in Nursing. You will prepare yourself for the rewards and challenges of professional nursing practice and build a foundation for graduate study in nursing.
You can begin the program each Summer term and will complete the nursing courses in 20 months (five consecutive semesters). This program is offered by the UNC School of Nursing through UNC Extended Campus, with most coursework in Greeley on the UNC campus, some coursework at our Loveland Center at Centerra and clinical experiences in the surrounding area.
Access to A Top Nursing School and a Career in High Demand
Each faculty member in this Nursing program is a Registered Nurse with practice, teaching and research experience. All faculty have advanced degrees in Nursing and many are certified in their specialty area. The UNC School of Nursing is approved by the Colorado State Board of Nursing and fully accredited by the Commission on Collegiate Nursing Education (CCNE). Students graduating from the BSN Program are eligible to sit for the NCLEX RN licensure exam.
RN Employment & Salaries Are Growing
The median salary for a Registered Nurse in 2017 was $70,000 and RN employment is projected to grow 15% from 2016-2026 (much higher than the average for all occupations).
Visit the School of Nursing Program Page
The UNC School of Nursing hosts additional program details and updates throughout the year, we encourage you to visit their site as well.
UNC SCHOOL OF NURSING – PROGRAM DETAILS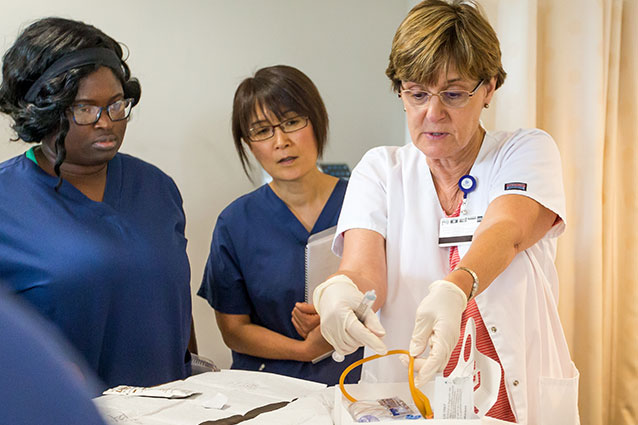 SNAPSHOT
Credits Required:
71
Time to Completion:
5 terms (20 months)
Tuition:
$365/credit hour
Delivery Options & Start Term:
Greeley / Loveland delivery: starts each Summer term
Get Started/Apply
Program Questions:
Clinical coursework begins each summer term and continues through December of the following year—for a total of 5 terms (20 months).
Most courses are delivered in Greeley on the UNC campus. Some courses will be at our Loveland Center at Centerra. Clinical experiences are in the surrounding area.
---
Required Courses (71 Credit Hours)
To see a typical list of courses by term, visit an example Current Students page for this program.
---
Clinical Nursing Experiences
Clinical nursing experiences are in a variety of health care agencies including hospitals, nursing homes, industry, schools and community agencies, primarily in northeastern Colorado communities. Clinical experiences are concurrent with nursing theory (classes) and are guided by nursing faculty.