Share this page
An Online Nursing Education Doctoral Degree from Renowned Faculty
The Nursing Education Doctor of Philosophy (PhD) degree is a post-master's program designed to prepare scholars for academic settings or health care organizations. You will develop excellence in teaching the discipline of nursing and engage in a research trajectory specific to nursing education. This doctoral program extends content acquired at the baccalaureate or master's levels to emphasize knowledge development, education strategies, leadership and research.
In this program, you will draw upon the educational expertise of the university at large by utilizing curricular and research resources of other disciplines as well as those of nursing. The program requirements are distributed across three major focus areas:
Research (generate new knowledge to advanced nursing science)
Leadership (advance the professional discipline of nursing)
Education (promote innovative and evidence based approaches in education)
This online program, offered by the UNC School of Nursing through Extended Campus, begins each Fall via a competitive admission process.
Preparing Nurse Educators
The Nursing Education PhD program is committed to increasing the number of doctoral-level nurse educators. Graduates of the program are qualified to fill nursing faculty positions in educational institutions and health care agencies.
The fully accredited UNC School of Nursing is widely recognized for preparing excellent nurses and teachers.
Nurse Educators Critically Needed
There is high demand nationwide for additional Nurse Educators, and particularly in Colorado. In fact, 53% of the state's full-time faculty is aged 55 or older and retiring at a rate of 45 individuals per year, according to the Colorado Center for Nursing Excellence.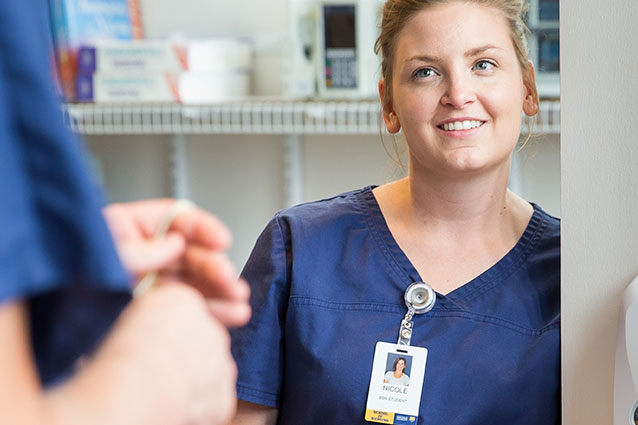 SNAPSHOT
Credits Required:
66
Time to Completion:
4 years
Tuition:
$659/credit hour
Delivery Option & Start Term:
Online + Colorado Visits: starts each Fall term
Get Started/Apply
Program Coordinator
Darcy Copeland, PhD, RN
darcy.copeland@unco.edu
970-351-1930
The Nursing Education PhD is a 66 credit hour post-master's program which can be completed mostly online in 4 years, fitting around your schedule. You will contribute work toward your dissertation during each semester in the program, and in the fourth year all of your coursework will center on your dissertation.
---
Short Colorado Visits
There is a required 5-day orientation in July the summer before you start the program. You will spend two days in orientation on campus in Greeley and three days at the Nurse Educator Conference in Vail, Colorado.
Additional on-campus events include a proposal hearing, dissertation defense and oral comprehensive exams.
---
Required Coursework (66 Credit Hours)
To see the upcoming courses, visit this program's Current Students page.
See the Planned Course Sequence (listing which courses will be delivered each term of your program).
Nursing Science Master's to PhD Core (12 Hours)
Nursing Education (17 Hours)
Electives (6 Hours)
Six credits of electives are scheduled in consultation with your advisor.
Research Core (15 Hours)
Dissertation (16 Hours)
---
For full details, see the official program listing in the UNC Graduate Catalog.