An Online Bachelor's Degree Completion in Psychology
UNC is proud to bring one of our most popular undergraduate programs to you online: the Psychology Bachelor of Arts. This degree is focused on the study of the human mind and behavior will give you the skills to thrive in a variety of roles. Learn why people do what they do, and how thoughts and feelings impact our interactions.
You Will Develop...
The ability to understand human behavior
Recognition of and appreciation for diversity
Research design and analysis
Report writing and presentation
The ability to consider behavior in the context of groups
Critical Thinking
The Benefit of a Bachelor's Degree
Why finish your degree? Besides the knowledge and skills you'll gain, you will also open the door to better employment opportunities and earnings. Based on final 2022 earnings data, the U.S. Bureau of Labor Statistics found that – compared to those who have only completed some college credit – those with a bachelor's degree...
Earned 53% more money each week ($1,432 compared to $935).
Had a lower unemployment rate (2.2% compared to 3.5%).
Visit the full Bureau of Labor Statistics article to view the full interactive charts for earnings and unemployment data by education level.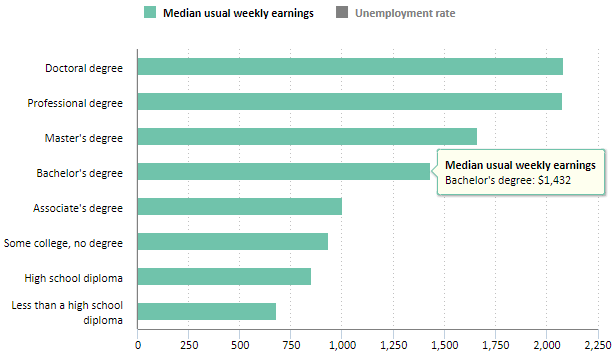 Access to a Variety of Careers
This program educates adults who bring positive impacts to their jobs, their communities and even their family and social circles. Employers value psychology graduates for their widely relevant analytical and interpersonal skills, ability to think clearly, penchant for problem solving and appreciation for a wide variety of behavior. Graduates are working in business, human services, law enforcement and management. Your degree will open doors to a wide spectrum of new opportunities.
Of course, many graduates are interested in the more direct application of psychological science, which was recently ranked in the top 10 highest demand fields. With a psychology bachelor's degree you can be a counselor in a residential treatment center, or a behavioral health technician in a psychiatric unit, where you will form relationships with mentors. You'll also be well-prepared for future graduate study once you know the psychotherapy path that interests you. Learn more about careers in psychology.
A Program Designed for Adult Learners
This online bachelor's degree completion program is designed for busy adults of any age who need to fit their college completion into busy lives, no matter where they live.
Open Entry: You can begin the program any term (Fall, Interim, Spring or various Summer sessions).
Fast Progress That Won't Overwhelm You: In addition to any courses you take in Fall and Spring terms, you can also take up to four courses in the Summer and courses are offered in the Interim (Winter) Session.
Quality Brought to You Online: This Psychology Bachelor of Arts is the same as our on-campus program. Courses are taught by the same faculty scholars who teach on campus.
Transferable Skills: This broad liberal arts degree, which deals in the understanding of others, is highly valued by employers because it prepares you with communication and research skills that can be applied to any industry, providing you with more career options.
SNAPSHOT
Credits Required:
43 in Psychology
120 total (including transfer credit) for graduation
Time to Completion:
About 2 years, varies by student
Tuition:
$427/credit hour
Delivery Option & Start Term:
Online program: start any term
Get Started/Apply
Program Coordinator
Melissa Lea, Ph.D.
melissa.lea@unco.edu
970-351-2527
Book an appointment
Fully Online Degree Completion
The online program coursework is designed to take approximately two years, depending on your enrollment preferences and your plan for elective credits. Full-time enrollment (12 hours or more during each term) increases the amount of federal financial aid for which you may qualify.
Online Course Tutorial
If you do not have recent experience taking classes online, you will have the chance to complete our online course tutorial. This tutorial will help you learn our Canvas course platform, and prepare you to succeed in your online courses!
Flexible Enrollment Each Term
Fall and Spring Terms
During Fall and Spring terms, you will be able to choose from a wide variety of 16-week courses.
Interim Sessions
A variety of Psychology courses are also available during this 4 week session that runs between the Fall and Spring terms.
Summer Term
Multiple courses are offered in the Summer term in the two 6-weeks sessions. If you take two 3-credit hour courses each session you will earn 12 credits in the Summer.
---
Coursework Requirements
Psychology Major (45 Credit Hours)
For an example of upcoming courses, visit the Current Students page for this program.
For full Psychology major coursework details, see the official program listing in the UNC Undergraduate Catalog. Please review both the Program Overview and Degree Requirements tabs.
Additional Credits Required for UNC Graduation
120 total credit hours are required for graduation from this UNC program. For full program requirement details, see the official program listing in the UNC Undergraduate Catalog.
Many of these credits may come from the courses you transfer as you apply. See the Eligibility & Transfer Credit tab for details about transferring your previous college credit.
Liberal Arts Curriculum (LAC) Coursework
UNC's Liberal Arts Curriculum provides students with a grounding in the liberal arts that is infused with critical and creative inquiry, and which also satisfies the six general education areas required for undergraduate degree programs at all public higher education institutions in the state of Colorado.
Many of these courses will potentially be fulfilled from your transferred credit.
View the current LAC requirements and policies. Course requirements by category (with links to list of eligible courses) are available at the bottom of the page.
Please note additional LAC stipulations for this program: certain courses are recommended for this program for some of the LAC categories; they will fulfill both LAC and major requirements. You can see the list of these courses in the Liberal Arts Curriculum section of the Degree Requirements.
Waiver of Liberal Arts Curriculum Requirements
Individuals with an Associate of Arts, Associate of Science, or a Bachelor's degree (regardless of date of completion) from a regionally accredited institution will have their Liberal Arts Curriculum requirements waived. See the Undergraduate Catalog for more information about LAC waiver and transfer evaluation policies.
Note: this program requires completion of PSY 120 even if overall LAC requirements are waived by UNC.
Elective Credits
The remainder of your 120 total credit hours will be comprised of elective credits you take at UNC or elsewhere. You may be interested in adding in electives (or a minor) from our online Communication Studies BA or Sociology BA degree completion programs. A wide range of other online courses are available as well.
Taking LAC or Elective Courses Online
Some options if you need this additional coursework:
The UNC Course Search – use the "Go to schedule of classes" button (many LAC course offerings are during Summer sessions; UNC does not currently have online LAC courses in the following subjects: Math, and Science with lab).
You can also search for online courses at Colorado Community Colleges Online or peruse options at any community college, particularly one near you (tuition is often lower for local residents).