A Master's Degree for Physical Education & Physical Activity Leadership
Advanced Practice & School-Based Physical Activity Leadership
The Physical Education and Physical Activity Leadership Master of Arts in Teaching degree is one of the first in the nation to prepare educators to assume the role of a physical activity leader within schools. The program is offered primarily online, with just one two-week visit to the beautiful UNC campus in the Summer, making it convenient for school professionals.
There has been a dramatic shift in how K-12 schools are incorporating physical activity; schools have been charged with implementing comprehensive school physical activity programs (CSPAP). In this school-wide approach, educators are being asked to take on a broader role in leading physical activity and health promotion efforts within and beyond the school day. This degree will qualify you to fulfill this highly valued and emerging role.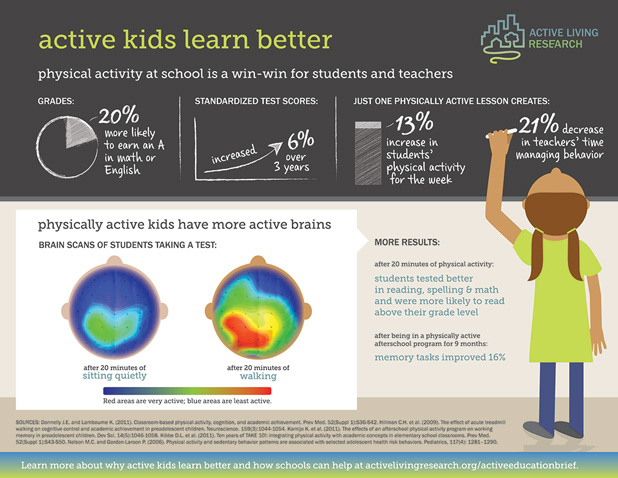 Infographic courtesy of Active Living Research
Program Outcomes
In addition to advanced knowledge in physical education, you will learn how to design, coordinate and champion comprehensive school physical activity programs (CSPAP) that...
Promote school-wide physical activity
Advance physical activity opportunities before, during and after school
Increase staff, family and community involvement
Addressing a Critical Need
17% of youth aged 2-19 are classified as obese and only 27% of high school students meet national recommendations for physical activity (CDC, 2013; Ogden, Carroll, Kit, & Flegal, 2012). School-wide approaches to physical activity promotion are designed to address this concern.
Career Opportunities In the changing world of K-12 Physical Activity
You will be prepared to thrive as a leader of physical activity at the school or district level, implementing comprehensive plans for physical activity, fitness and health promotion. This growing role reflects the nationwide Active Schools initiative for the development of CSPAPs.
Join the premier educators in the Colorado CSPAP movement! The UNC Active Schools Institute oversees the pilot programs for physical education in Colorado schools.
SNAPSHOT
Credits Required:
30
Time to Completion:
5 terms (20 months)
Tuition:
$612/credit hour
Delivery Option & Start Term:
Online + 1 Summer Greeley Visit: starts each Fall term
Get Started/Apply
Program Coordinator
Dr. Brian Dauenhauer
brian.dauenhauer@unco.edu
970-351-1202
Online + 1 Summer Greeley Visit
This is a 30-credit-hour Master of Arts in Teaching degree that can be completed in less than two years (five academic terms). This program is designed for working educators.
Fall and Spring semesters: courses are delivered completely online.
One Summer term: courses will involve a two-week experience on our Greeley, Colorado, campus plus some online work before and after your on-campus experience. You will meet your instructors and fellow students in an extended-workshop environment.
Coursework (30 Credit Hours)
To see a typical list of courses by term, visit an example Current Students page for this program.
For full program requirement details, see the official program listing in the UNC Graduate Catalog.