A Mostly Online Theatre Education Master's Degree with Applied Summer Workshops
The Theatre Education Master of Arts – Theatre Educator Intensive program is an academically rigorous program examining the philosophical, theoretical and practical implications in the field of theatre education. In this program, students will reflect on the bigger challenges that constantly face theatre educators in the classroom—and more broadly in the country.
This master's program features online delivery in the Fall and Spring academic terms, plus Summer workshops, to fit into the schedules of current and aspiring theatre educators. The summer workshops will involve viewing and working on theatre productions and attending classes.
Career Options for Graduates
Because of our mostly online delivery model, we have been able to help educators nationwide take their instructional skills to new heights. UNC-trained theatre educators are developing gifted performers, skillful technicians and dazzling productions at universities, colleges and high schools throughout the United States.
Congratulations to Mary Schuttler
Winner of the 2019 Educational Theatre Association Founder's Award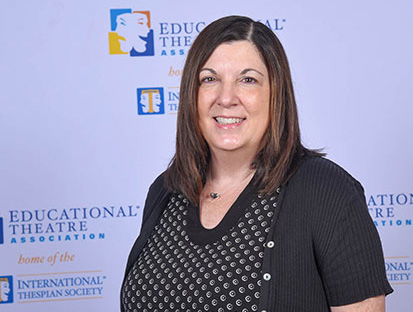 Congratulations to Program Coordinator and professor Mary Schuttler, who received the Founder's Award from the Educational Theatre Association at their national conference. The award recognizes an individual or group who has made significant contributions to the growth and development of theatre education, research, and practice.
Read more about Schuttler's award and contributions to theatre education.
SNAPSHOT
Credits Required:
36
Time to Completion:
2 years + thesis
Tuition:
$555/credit hour
Delivery Option & Start Term:
Online program + Summer Greeley workshops: starts each Fall term
Get Started/Apply
Program Coordinator
Mary Schuttler
mary.schuttler@unco.edu
970-351-1926
This focused program consists of...
Three 3-credit online courses spread out over two academic years (graduate transfer credits may also apply).
Two 3-week summer institutes (one 9-credit institute each summer) for 18 credits.
One 3-credit 500 level or above approved UNC or transferable theatre course.
Six credits of thesis advisement (a written thesis is required of all School of Theatre Arts Master of Arts degree candidates).
---
Coursework (36 Credit Hours)
For an example of upcoming courses, visit the Current Students page.
Core Courses (33 Credit Hours)
Theatre Electives (3 Credit Hours)
Approved 500 or 600 level Theatre course (3)
---
For full details, see the official program listing in the UNC Graduate Catalog.
What Our Students Say...
"A major reason I'm teaching now is because of the energy, expertise and letters of support from my professors and fellow cohort members. Without them, I'd have been ill equipped, and now I'm back doing what is truly in my nature to do."
– Dennis Trowbridge, Theatre and Speech Teacher
"I use what I learned in UNC's TEI program almost every day. The knowledge I gained has given me many tools and ideas to use in my classroom."
– Jim Kaiser, Theatre Arts Teacher