An Online Bachelor's Degree For ASL & English Interpreting
The American Sign Language English Interpretation (ASLEI) program is an accredited bachelor's degree, with two emphasis options, that prepares you to provide competent interpreting services between individuals who are deaf and use ASL as their primary means of communication and individuals who are not deaf and do not know sign language.
The ASLEI program offers two emphasis options. You will learn a core of interpreting coursework and then take 18 credits of specialized coursework in your emphasis. You will study online with students and faculty from across the United States and the world.
Community Interpreting Emphasis
The community interpreting emphasis focuses on working in settings with primarily adult consumers. These environments include a variety of different venues within the community.
Educational Interpreting Emphasis
The educational interpreting emphasis focuses on working in school settings with students who are deaf and hard of hearing. These include academic K-12 settings as well as extracurricular activities afforded to students.
Designed to Prepare Confident Interpreters
The ASLEI program addresses 34 competencies distributed over five domains necessary to become a competent and autonomous practitioner. The ASLEI program is based on the newest research available with input from multiple, expert sources. The degree has been designed for the purpose of preparing confident interpreter candidates who can achieve national certification and enter the profession as a competent practitioner.
ASL courses (ASL V-VIII and the ASL Self-Directed Lab) are taught by qualified Deaf instructors who use ASL as their primary language.
Interpreting skills courses are taught by qualified hearing instructors who are practicing interpreters.
Only Online CCIE-Accredited Program
The ASLEI program is accredited by the Commission on Collegiate Interpreter Education (CCIE) and it is the only distance-delivered interpreter education program in the nation to have achieved this distinction.
We also encourage you to visit the extensive ASLEI bachelor's degree information available on the Department of American Sign Language & Interpreting Studies (ASLIS) website: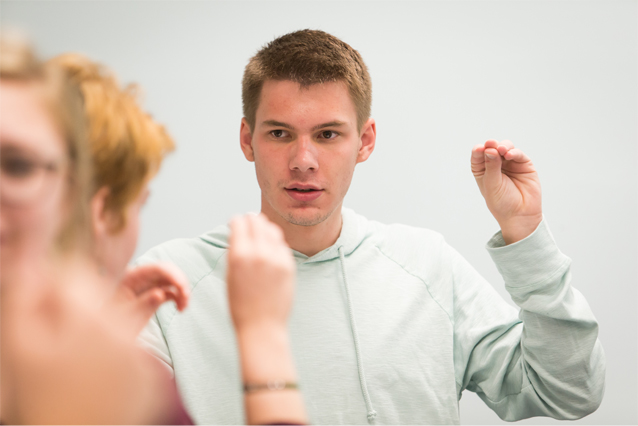 SNAPSHOT
Credits Required:
120
Time to Completion:
4 years (12 terms)
Tuition:
$415/credit hour
Delivery Option & Start Term:
Online + Summer campus visits: start any Summer or Fall term
Get Started/Apply
Administrative Coordinator
Kate Beilmann
kate.beilmann@unco.edu
970-351-1075
Degree Details
This bachelor's degree is a 120 credit (80 credits within the major + 40 credits of Liberal Arts Core) program requiring 12 consecutive semesters (fall, spring, and summer) to complete. The interpreting courses are sequenced and offered once per year, so if you need all 80 credits of INTR courses, it will take the full four years to complete the program.
If your ASL competency places you above ASL V and you have transferable courses within the major, you may be able to complete the program in less than four years. If you are a working interpreter holding interpreting credentials (RID, ED:K-12, or 4.0+ on the EIPA performance and passed the EIPA written) and have 21 or more Liberal Arts Core credits to transfer in, the most common entry point is Intro to Consecutive Interpreting: Skill Development in the summer of Year 2. This entry point may allow you to complete the program in as few as seven semesters.
Upon being accepted into the program, you will be assigned an advisor who will assist you in determining your personalized plan of study based on your ASL competency and any credits being transferred in to UNC.
Year 1 and 2 focus on developing your ASL and English skills.
Year 3 and 4 focus on developing your interpreting skills. Beginning in Year 3, you will take 18 credits of specialized coursework honing your ability in your chosen emphasis (Community interpreting or Educational Interpreting).
You must pass all major courses (INTR course prefixes) with a B or better.
Year-Round Mostly Online Program
Online Courses in Fall and Spring: ASLEI courses are fully online in the fall and spring semesters. You will participate in structured courses using an online learning management system with assignments and due dates. The time of day you do coursework is up to you as long as your work and your interactions with peers and staff are completed on time.
Hybrid Courses in Summer: Additionally, you will take accelerated hybrid ASLEI courses in the summers. This consists of two weeks online in June followed by four weeks on campus. You will take 6-7 credits providing intensive language, knowledge, and/or interpreting preparation. While on campus during the summer semester, you will be in face-to-face classes from 8:00 AM to 5:00 PM on weekdays with daily and weekend assignments.
All on campus and online students will receive an annual Summer Logistics Packet providing information on traveling to Colorado and UNC, on campus accommodations, and other resources to help you plan a four weeks on campus visit. Most out-of-state students stay in one of UNC's residence halls (approximately $1,000 for the month) and purchase a meal plan through dining services.
---
Required Major Coursework (80 Credit Hours)
To see the upcoming courses, visit this program's Current Students page.
Emphasis Area Courses (18 Credit Hours)
Community Interpreting Emphasis
Educational Interpreting Emphasis
---
Courses and Requirements for Graduation
120 total credit hours
For full details, see the official program listings in the UNC Undergraduate Catalog:
See the Eligibility & Transfer Credit tab for details about transferring your previous college credit, including the Liberal Arts Core coursework.
For an example schedule of courses, see the...
Liberal Arts Core (LAC) Coursework
UNC requires a set of courses intended to provide a core of liberal arts knowledge and skills that will make you a continual learner across disciplines. Many of these courses will hopefully be fulfilled from your transferred credit.
View the current LAC requirements and policies. The lists of course requirements by category are available at the bottom of the page.
Waiver of Liberal Arts Core Requirements
Individuals with an Associate of Arts, Associate of Science, or a Bachelor's degree (regardless of date of completion) from a regionally accredited institution will have their Liberal Arts Core requirements waived. See the Undergraduate Catalog for more information about LAC waiver and transfer evaluation policies.
Taking Prerequisite or LAC Courses Online
If you are missing any of this coursework:
What Our Students Say...
The ASLEI program is top notch and I feel so blessed to have the opportunity to be a part of it! The instructors are AMAZING and the amount of time they invest in each student by providing detailed feedback, support and encouragement is a true gift. This program has challenged me to strive to be the best interpreter that I can be for those that I have the privilege to work with.
– Sharnett Thomas Barker, ASLEI online program student
As a working educational interpreter, this program was the best fit for me professionally! The content discussed in each class applied to my work and the professors were phenomenal. They challenged me to set high standards for myself and encouraged me along the way. If anyone is considering this bachelors program – go ahead and take the plunge, you will not be disappointed!
– Jenna Thornwall, ASLEI online program graduate

I grew up interpreting within my family. When I decided to become an interpreter, I felt that I should understand the theory, the culture and the language, so that I would be able to grow in my career and not plateau.
– Janina Witteborg, ASLEI online program graduate

I had a good support system with my peers, and the educators are well known through the interpreting community, so their reputation preceded them. They all have published work and I was able to really connect with several of them.
– Tiffany Harding, ASLEI online program graduate