A Flexible Online Doctorate (PhD) Program in Special Education
The Special Education Doctor of Philosophy program allows you to pursue your specific interests and goals in the field of special education. Our program is based on the concept that your learning is an active, self-regulated process.
You will work in collaboration with your advisor and committee on individualized instruction in theory, pedagogy, research methodology, evidence-based practice, public policy and advocacy, and collaboration. Required courses include special education, research methods, electives, and research tools.
Become a Special Education Leader And Advocate
You will be prepared for creative leadership in a rapidly changing world that is experiencing increasing cultural diversity and structural reforms. Become a steward and advocate for exceptional students via a wide range of leadership positions in public and private schools, colleges, universities, agencies, businesses and government entities.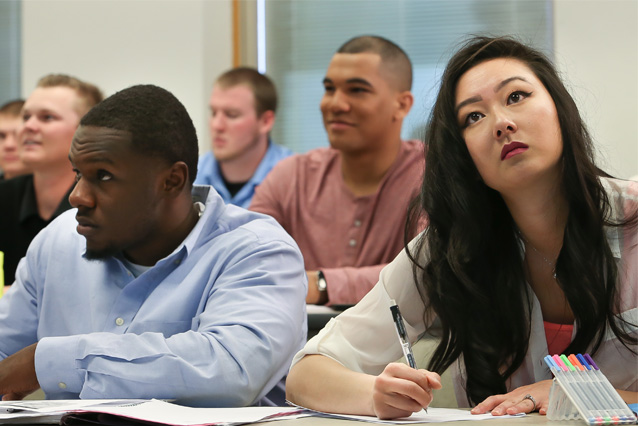 SNAPSHOT
Credits Required:
77
Time to Completion:
3-5 years including dissertation
Tuition:
$672/credit hour
Delivery Option & Start Term:
Online program: starts each Fall term
Get Started/Apply
Program Coordinator
Silvia Correa-Torres, Ed.D.
silvia.correa-torres@unco.edu
970-351-1660
This program can be completed in 77 credit hours (including dissertation). Additional credit hours could be required if optional research tools coursework or additional externship hours are chosen.
Choose the enrollment level that is right for you. Full-time students generally finish in three years; part-time students can typically finish within five years.
Content courses are offered in the Fall and Spring terms. Three 16-week courses are available. You can enroll in 1 to 3 courses.
In Summer terms, you will focus on electives, research tools courses, externship, and your dissertation. These courses are also available in Fall and Spring.
---
Coursework (77 Credit Hours)
To see the upcoming courses, visit this program's Current Students page.
Research Core (12 Hours)
Research Tools (12 Hours Minimum)
Students in special education must demonstrate proficiency in two of the four research tools. You will work with your advisor on research tool course options.
Electives (9 Hours)
Students are to select 9 semester hours of courses in a cognate closely related to the student's program goals. Electives are chosen in consultation with the major advisor and are an integral part of the program plan.
Dissertation (16 Hours)
Externships (3 Hours Minimum)
Add a Director of Gifted Education Licensure/ Endorsement
You can include Director of Gifted Education Endorsement preparation if you take it as an Area of Special Interest for this PhD degree.
Contact the Program Coordinator for details and advice based upon your academic background.
---
Comprehensive Performance Assessment
The comprehensive examination consists of a written Major Paper plus a matrix of performance options that demonstrates competency in theory, pedagogy, research methodology, evidence-based practice, public policy/advocacy, and collaboration.
---
For full details, see the official program listing in the UNC Graduate Catalog.