Meet a Few of Our Many Inspirational Students
We are inspired every day to help bring quality UNC education to those around Colorado and the world. We're even more inspired by what our students do with their education. These are just a few of those tales.
Extending Theatre Education Experiences to Students in China
Air Force Veteran Transitions to Clinical Counseling
Student Achieves Her Dream 1,900 Miles Away
Building Lifelong Connections
On a sunny, gusty day in March, Governor John Hickenlooper and legislators gathered at the Capitol Building in Denver for a news conference that had them sharing the spotlight with a well-dressed but rather, well, flat crowd.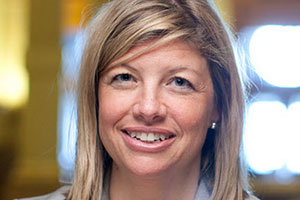 It was Doll Day on Capitol Hill—an annual event held by the Colorado Children's Campaign (CCC). Weeks beforehand, kids from around the state made more than 200 cardboard dolls, dressing, coloring and designing them. The dolls stand in for their young artists as a reminder of Colorado's million-plus children. While the dolls are flat, they help bring dimension to the issues and challenges facing Colorado kids.
"Every year, we put cardboard dolls in the chairs of every state legislator at the Colorado Capitol to remind them of how important it is to keep kids' interests in mind as they make important decisions," says Chris Watney, who served as the President and Chief Executive Officer of Colorado Children's Campaign from 2009 to 2016.
The Colorado Children's Campaign is a research and advocacy organization that has been speaking on behalf of kids in Colorado for more than 20 years. Watney was already working full-time at the CCC when she decided she wanted to pursue a master's degree in counseling. Enrolling in the UNC Extended Campus delivery of the Clinical Counseling Master of Arts program at the Denver Center at Lowry allowed her to attend classes on weekends, and she earned her master's in community counseling in 2006.
"I looked forward all week to attending class. I anticipated what we were going to cover in class with a lot of excitement, and I made some really close relationships that I continue to use to this day. I felt like I was getting an immersion in the grad school experience while I was still able to go to work every day," Chris says.
"The program's faculty was incredibly strong. I stay in close touch with several of them. They played such a large role not only in my time at school, but also in helping connect me to people in the community. They have become lifelong connections for me in moving my work forward."
Find out more about the Clinical Mental Health Counseling Master of Arts Program.
---
Extending Theatre Education Experiences to Students in China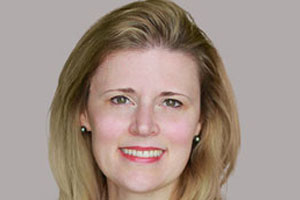 Enrolled in UNC's Theatre Education graduate program, Alyssa Allgaier didn't let distance become a barrier to learning. In fact, she built "bridges" and developed a global project as part of her thesis for the online master of arts program.
The two-year Theatre Education program combines online courses with three-week summer campus workshops and is designed for teachers like Allgaier, who can continue to work anywhere in the world while enrolled.
Allgaier focused her master's thesis on a cultural exchange project she developed for her class at an international school in Shanghai, China. Her "twinning" project connected high school students in her classroom with students living in different countries. Students shared information about themselves and their worlds, both electronically and through the mail.
"The project was designed to help remove prejudices and stereotypes," said Allgaier, who adopted the concept from Noel Greig's book, Young People, New Theatre. The project concluded six months later with a theatrical performance.
"The final presentation included a montage of monologues, short scenes, movement-based pieces, soundscapes and film clips, all of which were devised by the participating students and were based upon their findings and experiences."
Allgaier called the twinning project—which she linked to the classroom of a fellow student she met in UNC's Theatre Education program—the "most rewarding experience I've had in my career."
"As my students compared their world with the world of their twin, they saw things from a different perspective and also began to question their own environment," she said. "Participating in the twinning project is a way to prepare students for a successful cultural integration in an ever-growing global community."
Learn more about the Theatre Education Master of Arts program.
---
Air Force Veteran Transitions to Clinical Counseling
Chief Master Sgt. Stefney Dunson was awarded the Bronze Star for meritorious service while deployed in support of Operation Enduring Freedom in Afghanistan.
Two years later, Air Force veteran Dunson walked across UNC's commencement stage to accept his diploma for a master's degree in Clinical Counseling.
"I chose the clinical counseling program because during my 28 years of service, counseling was something I was required to do daily," said Dunson, who did his coursework at UNC's center in Colorado Springs. "Whether it was at home station or deployed in a combat area, people needed someone to talk to about their issues, concerns and problems. Choosing this program was a natural fit for me."
After joining the military in 1982, Dunson was stationed in locations all over the world, including Italy, Alaska, Saudi Arabia, Iraq, and Afghanistan, where he led an embedded training team and added the Bronze Star to his more than 20 medals recognizing his service.
"The master's program had such a positive impact on my life because at the time I was retiring from the military, I was knee deep in my studies and I had a great group of people surrounding me," Dunson said.
"It was an honor and privilege serving my country, and let's not forget the thousands of young men and women who are serving today," Dunson said. "Especially those who are serving in harm's way. May they all return home safe to their friends, family, and loved ones."
UNC offers graduate programs in school counseling, clinical counseling, and couples and family therapy at the Greeley campus and at our Denver and Colorado Springs locations.
– Written by Elizabeth Same, Journalism Major
For more information, view the Counseling & Psychology program list.
---
Student Achieves Her Dream 1,900 Miles Away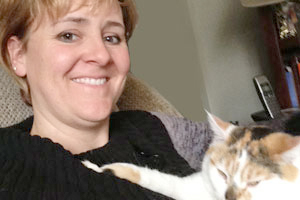 When Tiffany Harding was 14, she had the opportunity to learn American Sign Language. It was an opportunity that led her to pursue sign language opportunities and helped her turn her passion into a career.
She loved the language, and how it allowed her to connect with deaf people. She earned an associate's degree from a community college, graduated from a sign language interpreter training program, and began working with the deaf at the Montana School for the Deaf and Blind in Great Falls, Montana. But she dreamed of getting a bachelor's degree.
It was a dream she made real when she earned her ASL English Interpretation Bachelor of Arts degree. The degree is offered mostly-online by the UNC Department of American Sign Language & Interpreting Studies through Extended Campus. The first three weeks of the program took place on campus at UNC, where she met with her classmates and faculty.
"I loved building the initial relationships with my fellow learners and faculty during that intense immersion," she says. "But the real relationships developed as we worked together online, and connected through Skype, message boards, video chats, cell phones and online technology. Our professors looked at us as professionals in the field, coming from a place of value with experiences that enhanced our education. It was very different from being a traditional student." Her favorite professor was Susan Brown, M.Ed. "She really cared, and went out of her way to make personal contact."
She felt so strongly about her UNC experience that she chose to attend her UNC graduation ceremony in person, driving 1,900 miles in three days to celebrate the accomplishment with her family in attendance. She says the program has made a difference in her continuing work as the coordinating interpreter at the Montana School for the Deaf and Blind.
"I'm constantly telling people in Montana that the UNC program is a way to grow in our profession. I believe in lifelong learning, and this is a great way to do it," she says. "I wanted to be ahead of the curve. Now I am better equipped to talk about what I do. My peers recognize that I am a professional and not just a teacher's aid. It's made a big difference."
Learn more about the ASL English Interpretation Bachelor of Arts program.
---
The Journey to Interpreting
Janina Witteborg is used to facilitating communication, but her participation in a unique webinar gave her a chance to help build new bridges between communicators.
Witteborg, who graduated from UNC with a bachelor's in American Sign Language-English Interpretation, belongs to a small group of ASL interpreters for whom ASL is a first language.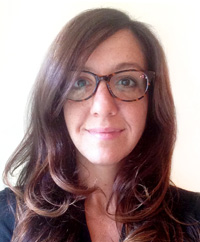 "My parents are both Deaf and my first language is American Sign Language," she says. As a Deaf Parented Interpreter (DPI), Janina brought a unique set of experiences and rich understanding with her when she enrolled in the program through UNC Extended Campus.
She had an opportunity to share her story, insights and experiences with some 500 webinar participants—40 percent of whom were instructors at interpreter preparation programs—hosted by the National Interpreter Education Center in Boston, Massachusetts.
The panel discussion, moderated by well-known Certified Deaf Interpreter Trenton Marsh, highlighted the experiences of two Deaf Parented Interpreters and two Deaf Interpreters entering into the interpreting field. Witteborg explains that these groups are a minority in the interpreting profession; Interpreter Education Programs (IEPs) seek to increase DPI and DI entry to the field.
When Marsh asked why she chose to enroll in an IEP when she was already fluent in ASL and practiced at interpreting, Witteborg explained that she wanted to deepen her understanding.
"I grew up interpreting within my family," she told webinar participants. "I thought that if I did decide to become an interpreter, I should understand the theory, the culture, and the language, so that I would be able to grow in my career and not plateau."
Witteborg, who lives in northern California, enrolled in UNC's Extended Campus in mid-2013. The university's Department of ASL & Interpreting Studies offers several options for students, both campus-based and online: ASL coursework for foreign/modern language requirements; an ASL Minor; a bachelor of arts in ASL-English Interpretation; and a master's in Teaching American Sign Language.
"This has been a personal experience for me. Learning about interpreting has meant learning about myself, about the language I grew up with, the culture I grew up with," she said.
She explained to the audience that she feels IEPs need to incorporate the expertise and understanding of the Deaf community in the programs that educate interpreters.
"Educators themselves are busy. But we have many people in the community who can serve as language mentors," she told the group.
Reflecting on her experience after the webinar, Witteborg said it's important to participate in conversations about the field. "The Interpreting field is growing and changing rapidly to meet the demands of both the Deaf community and the world we live in. Saying 'yes' to opportunities like this allows individuals to have an influence in the field's evolution," she said.
Learn more about the ASL English Interpretation Bachelor of Arts program.
Explore Our Offerings