Loveland Center at Centerra – Current Students Information
The UNC Loveland Center at Centerra is conveniently located near Interstate 25 & US Highway 34 in the Centerra development of Loveland.
Contact the Loveland Center
Phone: 970-351-2944
Fax: 719-351-1571
Email:
LovelandCenter
@unco.edu
Address:
2915 Rocky Mountain Ave
Loveland, CO 80538
Center hours vary based on scheduled class times. Please contact us via the email address above with any questions.
Student WiFi Directions
Devices vary in which fields they require and in what order, but the bullets below should cover most device processes (you may not require all of these items):
If you are on a mobile device, first turn on Airplane Mode (this will ensure that the user registration page will be displayed once you connect).
Make sure WiFi is turned on, search for available networks and select: UNC-Student
Keycode/Password/Security Key: UNCStudent (capitalization does matter; this is needed only the 1st time you use each device at a UNC campus or center).
Ignore any notification that says "WiFi has no internet access."
Open your browser and go to any web page to prompt the User Registration page if you are on a computer. If you are on a mobile device, you may need to go to

https://www.unco.edu/ or http://138.86.60.99/.
Read the UNC Computing Acceptable Use Procedure, then hit the "Accept" button.
Username and password are your full UNC Student username (Bearmail address) and your password.
If you input your credentials correctly, you will receive a confirmation page and then the network will connect (this may take a few moments).
Turn off Airplane mode if you turned it on for this process.
If you have trouble connecting, visit the UNC Wireless Networks help page (you may need to log-in with your Ursa credentials) or call 970-351-4357 for assistance.
Printing
Printing is available whenever the center is open, if the classroom with the printer is not reserved by a course.
All the printing is done through the BearPrint printing system, same as the main campus. For assistance, check the binder in your computer lab or check with the Site Coordinator. When printing, it will ask for your Ursa username and password.
Every August, an $8 credit is put on your account for the academic year. If more money is needed, you can add funds to your account in the Financial/Billing section in Ursa. If a billing discrepancy occurs, please contact Technical Support.
We do not have a copy machine for students. If multiple copies are needed, it can be done through your Pharos printing account.
Other Amenities
Free parking! [Note: please do not park in the few spots that are marked "Reserved" on the far South end of the lot.]
Kitchen and patio: The center has a kitchen area with a coffee maker, two microwaves, refrigerator, convection oven, two vending machines, toaster, several tables and chairs, and an outside patio area with two picnic tables and a BBQ grill. We rely on students and staff to clean up after themselves when using the facilities!
Fitness: the center has a bicycle that can be checked out from the UNC administrative offices for 30 minute intervals. Students have full use of the walking/biking paths right next to the center, which go around 2 lakes. Locker rooms with shower are located in the first floor main hallway.
Please note: the picnic area just outside the next nearest building (to the North) is not available for UNC use.
Sorry, pets and children may not accompany you to class.
The Centerra Area
Centerra is a retail and residential development district in Loveland (surrounding the intersection of I-25 and US Hwy 34) with nearby access to...
Trails around two lakes (right outside of our center building!)
Many restaurant options from fast food to casual and fine dining; many catering options are also available.
Retail shopping, including an outlet mall and an upscale outdoor mall.
Hotels and apartment/condo complexes
Gas/convenience stores, and some groceries at nearby supercenters
Information is available at the front desk with menus, maps and locations of the amenities nearby.
Be sure to explore the area using the "Search nearby" function at the Google map link above.
Photos of the Center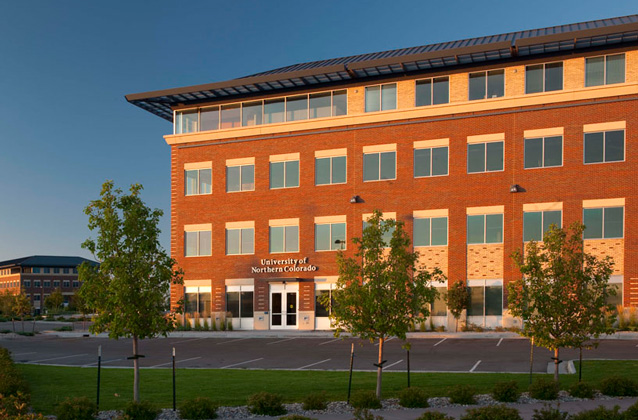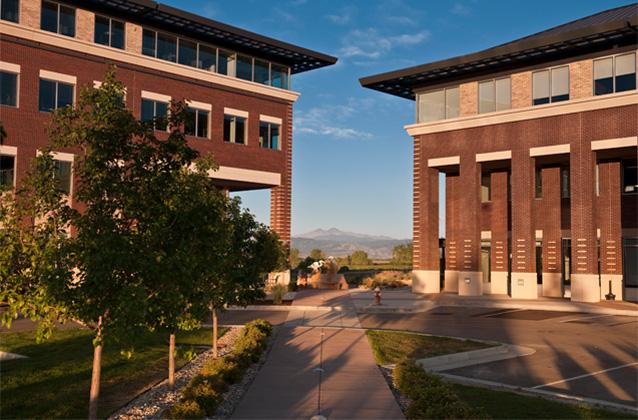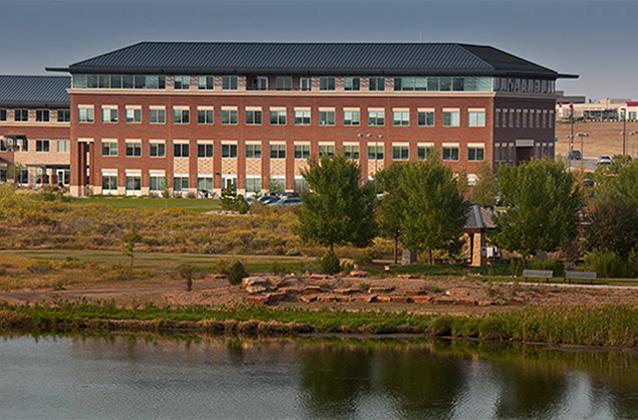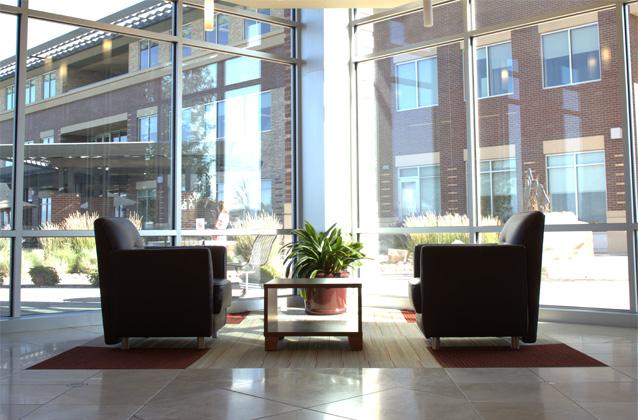 Student Services
Extended Campus is here to help you with registration, billing, financial aid, and any other concerns as you complete your program. Email or schedule a meeting for support:
jessica.sklba@unco.edu