Guide & Answers for Extended Campus Students
Guide for Current Students in Extended Campus Academic Programs (Degrees, Licensures, Certificates)
The following guide will help you manage the steps for starting your program, registering for your courses, accessing your courses online, paying your bills, accessing grades and transcripts, and more.
View the Extended Campus Student Guide.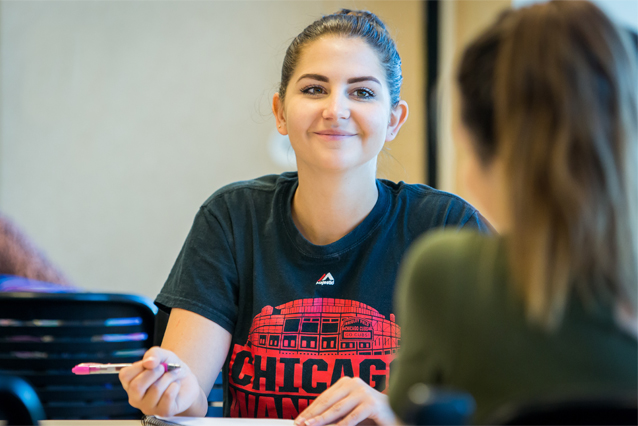 Top "How To" Topics
Other "How To" topics, instructions, policies and resources are located in the Student Guide PDF linked above.
Access Your Online Courses in Canvas
Activating and Using Your Ursa Account
What is Ursa?
Ursa is the university's online single point of access to secure information for students, faculty and staff. After you activate your account, the Ursa login link is always available in the yellow Student Resources box on these pages.
With Ursa, you'll be able to:
View and search the catalog and schedule of classes
Register for courses
Check your BearMail (university email)
See campus announcements
Accept or decline financial aid awards
Check financial aid status
View and pay account balances
View grades
View your student records and progress toward graduation
View and order transcripts
New Students – Activating Your Ursa Account
*** As a first time UNC student, you have to activate your account. This only needs to be done once. ***
Follow the Ursa Account Activation Instructions. Please note:
You will learn your Ursa Username/PDID during the activation process. It will be the first four characters of your last name and a randomly chosen 4-digit number (e.g. smit1234 or fox4321).
You will set up your password during account activation.
Additional tips/notes:
You will need to input your Bear number (you will receive this with your admissions information) for this process.
If you have a pop-up blocker installed on your computer, you will need to follow the instructions on the screen to remove the pop-up blocker in order to access Ursa.
If you still have problems after that, please contact the Technical Support Center at 970-351-4357 or 800-545-2331.
Accessing Ursa
Once your account is activated (this may take up to 30 minutes) you can log onto Ursa: https://ursa.unco.edu/
---
Registering For Courses
Find Your Course Registration Numbers (CRNs) on Your Program Page
In this Current Students section of the website, choose Undergraduate Programs, Post-baccalaureate Programs, or Graduate Programs.
Find your program in the list (they are organized by Area of Study). If your program has multiple delivery locations/groups running, be sure that you choose the page based on your location and the term you started the program. [Once you find your page, we recommend that you add it to your bookmarks / favorites as an ongoing resource.]
The courses scheduled for your program will be listed. Each course will have the CRN (a 5-digit number) listed once the number is available. You will use the CRN number(s) to register in Ursa.
Registration Timing/Deadlines
View upcoming registration opening dates and deadlines.
Newly admitted students: please note that when you are first admitted, it may take up to 72 hours before all setup and permissions are enacted to allow you to register for your first program courses.
Logging in to Ursa and Registering
*** Undergraduate students: please note that you will also need to contact your Program Coordinator for your PIN number for each term. This process helps UNC ensure that you are receiving proper advising for progress to program completion. ***
Log in to Ursa with your Username (which is the same as the portion of your BearMail address that is before the @ symbol) and Password. Once you are logged in:
On the Student tab, look under Registration and Grades and choose the Register, Add or Drop/Withdraw Classes option.
Choose Register for Classes, then select a term and click Continue.
Go to the Enter CRNs tab and…


Enter the CRNs for your courses. You can add them one at a time or all at once. Click Add to Summary or Add Another CRN as needed.
Click Submit at the bottom of the page. Check if the course(s) are now listed as Registered or if any registration errors occurred.
If any of your courses can be taken for a variable number of credits, click the Schedule and Options tab (next to Enter CRNs). The number under Cred will be underlined. Select the number, enter the number of credits you wish to take, and click Submit. [Your program page will list how many credits have been assigned for that course for that academic term. You can change this setting up until the Add date for that course.]

Review your schedule for accuracy: go back to the browser tab that has Ursa open. To view your schedule, under the Register for Classes menu you can choose Detail Schedule, Week at a Glance, or Registration History. Each of these options will give you a different view of your schedule.
If you are having trouble registering, please contact the Registrar at 970-351-4862. If the classes are closed, or if it is requiring a prerequisite, please contact the instructor or your program coordinator.
---
Access Your BearMail (Student Email Account)
BearMail is the official email for UNC students and your BearMail address is how you will be contacted for any information concerning your classes, status, changes in scheduling, etc. Your BearMail account information is provided with your admission information.
You can access your BearMail from this page via the link in the Student Resources box, from within Ursa, or by visiting http://bears.unco.edu.
The first part of your BearMail address will be the same as your Ursa username (the first four characters of your last name and a randomly chosen 4-digit number): e.g. smit1234@bears.unco.edu or fox4321@bears.unco.edu.
Your password is the same as your Ursa password.
---
Access Your Online Courses
Access your online courses in the Canvas learning management system.
Note: While you may sometimes be able to access your course in advance, you won't be able to interact in the course until the first day of class. In some instances, your professors will not open the course until the first day of class. If you have registered for the class within the past 24 hours, you may need to wait for the system to update and grant you access.
Logging into Canvas Student Portal at UNC:
Canvas username: You will log into Canvas with your full BearMail address (_____@bears.unco.edu).
Canvas Password: The same password you use to access Ursa and your BearMail account.
Emails sent by others from within the Canvas system will go to your BearMail address.
Are you new to using Canvas?
---
Technical Help for Canvas
Canvas Student Support – detailed guides and tutorials
Technical support is available from within your online classroom or here on the Extended Campus site. Just look for links to "Technical Help" or "Technical Support."
Live Technical Support hours:
Mon-Fri: 8:00 a.m. to 7:00 p.m.
Sat-Sun: 10:00 a.m. to 7:00 p.m.
You can still submit Technical Support requests for assistance outside the live support hours. A ticket will be created and a technician will follow up with your request.
Student Services
Extended Campus has dedicated staff to help you with registration, billing, financial aid, and any other concerns as you complete your program. Email or schedule a meeting for support:
jessica.sklba@unco.edu
ethan.swan@unco.edu